Every year the world of design gets even more exciting. Office and interior design is a huge part of running a business and can impact employee productivity, workplace enjoyment, company morale and the overall success of an organisation. Designers and inventors are constantly finding new ways to modernise workplaces, making these spaces contemporary, practical, efficient and pertinent. 2023 will bring a whole new meaning to interior design, with businesses first needing the incentive to get their staff back in the office but also with a focus on well-being and health. Let's take a look at some of the office design trends to expect this coming year.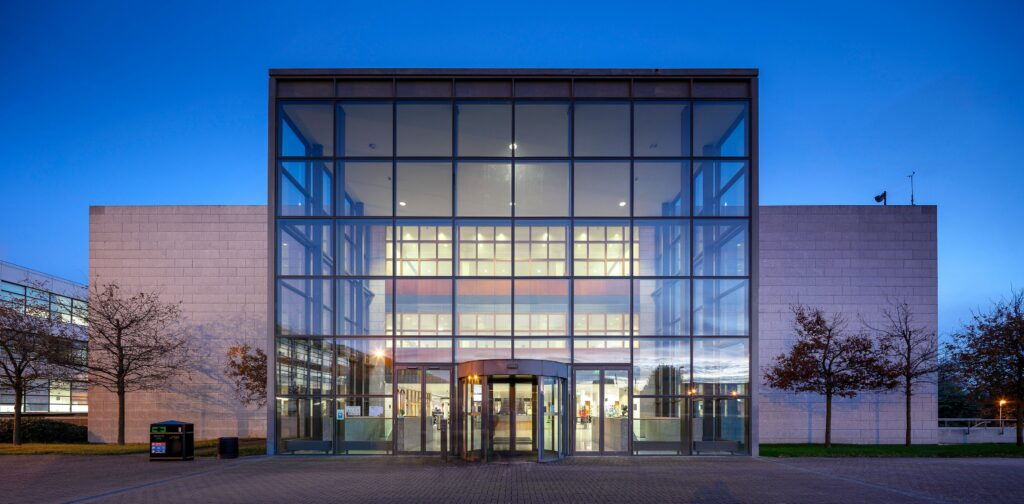 Smart technology
Implementing new technologies into an office will not only create new opportunities but also keeps work up to date and running efficiently. Smart features can include a wide range of equipment and softwares, all depending on the company's wants and needs. There are a handful of smart technologies which we will see creep into workplaces, offering benefits in areas such as security, safety, management, communication, and productivity. Coming together to create a smart workplace, there will be even more focus on the digital world with features including
Automation
Cloud-based security
Two-factor authentication
Smartphone connectivity
Collaboration tools
Smart energy
Office accessories
Many companies will now begin to design and plan their spaces around this technology, requiring new setups for things such as fingerprint recognition or automated doors. This trend may also see an increase in computer space and collaborative working environments.
Sustainability
Sustainability and the eco side of a business are becoming a necessity across the globe. And what better way to make a business more sustainable than through office design? An office is an ideal place to use eco-friendly materials, save energy, use renewable sources and decrease carbon footprints. In 2023, sustainable targets and ESG strategies will be top place on most business strategies and combined with products being created, the workplace will be required to meet these standards. Here are just a few ways businesses will be implementing sustainability into 2023 office design.
Renewable energy e.g. solar panels
Focus on recycling
Plastic free offices
Updated systems and electronics
Eco-friendly materials and building work
Automated lighting
Improved installation
Sustainable washrooms
Louder interior design
2023 will see businesses move away from the standard white walls and grey carpet. Instead, offices will create spaces which not only represent their brand but also reflect positivity, wellness, productivity and joy. Now more than ever, employers are beginning to value how their workers feel and want to create spaces which are enjoyable to work in. Colour in office design will be a huge contributor to this as there is a clear psychological link between colour choice and the human mind. Moving away from dull, corporate colours, glass artwork, office interiors will begin seeing brighter aesthetics, with the main focus on LED lights, graphics, coloured furniture and artwork. Brands will also incorporate their values and identities into this trend, with features such as giant logos or videos.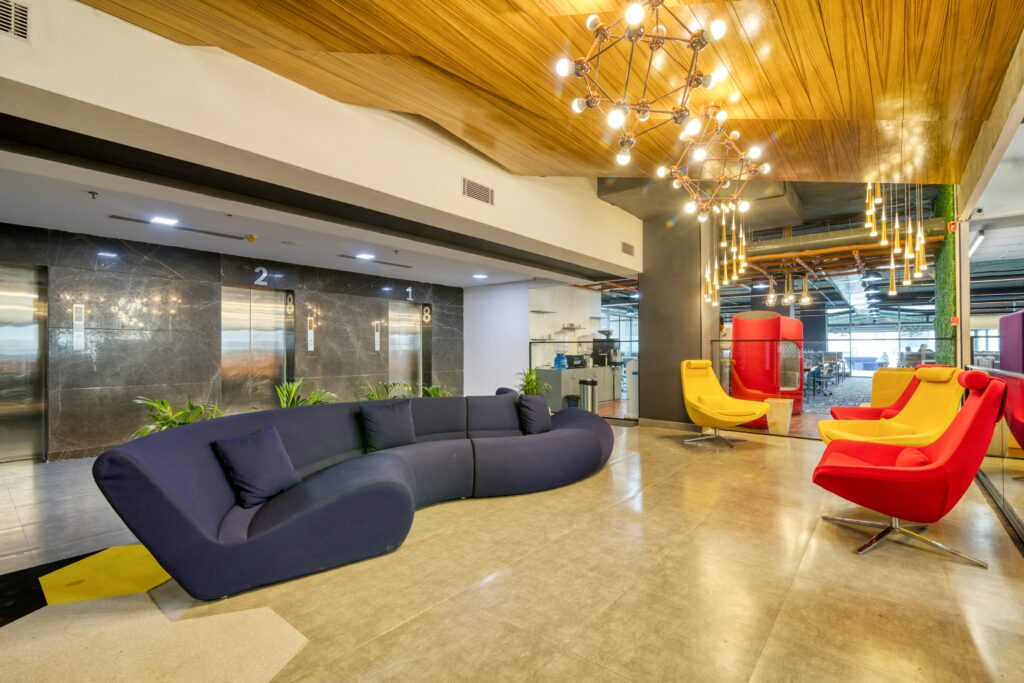 Collaborative workspaces
This takes us on to the next trend of collaborative workspaces. Combining stimulating interiors, technology and sustainability, offices are and will continue to invest in collaborative workstations, areas of an office which enforce collaborative work, creativity, productivity and freedom. We have already seen popularity in spaces such as break-out areas, but offices are now adapting to the fact that staff need more than a single desk and computer. Due to the rise of remote and hybrid work, employees are now needing an incentive when it comes to returning to the office. The main purpose of a collaborative workspace is to cater for all and enable staff and visitors to communicate and work together to meet a desired target or goal. Modern workers now value comfort, personalisation and independence when it comes to where and how they work. These spaces include features such as comfortable seating, laptop stations, interactive meeting rooms, kitchen areas, entertainment hubs or quiet zones.
Bringing the outdoors, inside
Office design will begin to incorporate nature and the outdoors like never before. Indoor plantations, moss and natural resources will be a huge feature when it comes to design and layout. Not only will companies create actual outdoor areas for staff to enjoy, but they will also bring these features into the indoor spaces. Reflecting the values of sustainability, nature will also bring health benefits to employees including features such as air purifying and relaxation.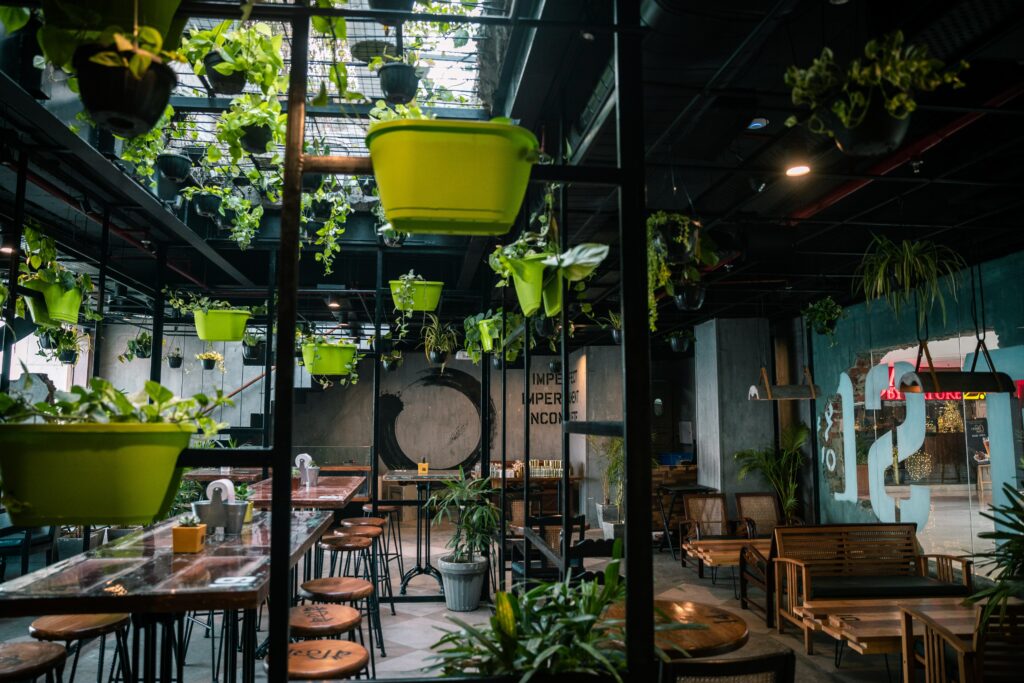 Enrichment hubs
The larger, more populated businesses will start to invest time and money into alternative equipment for their employees to enjoy during break times, training sessions or extra hours. Combined with the idea of collaborative spaces and bold design, entertainment hubs and gaming zones will be a huge hit for big corporations and household names. Some of the equipment includes:
Pool tables
Sports courts
TVs
Computer games
Music stations
These entertainment hubs will be used to stimulate employees, create an enjoyable workplace and also offer alternatives for break times. Creating these opportunities is also the perfect way to boost company morale and make it easier for employees to connect and communicate with one another on a more personal level.
Staff amenities
Introducing amenities for staff to use inside a building or campus is a key way to not only encourage them to come back to work but also give them everything they need in one place. Classed as a company benefit, having these facilities can be a huge attraction when it comes to recruitment and staff wellbeing and is something being included in modern-day office design. Adding canteens, gyms, shops, restaurants or even salons can offer employees, visitors and the employer great benefits. These amenities, along with all the other design features, come together to create a modern, convenient, practical and attractive workplace for all to enjoy.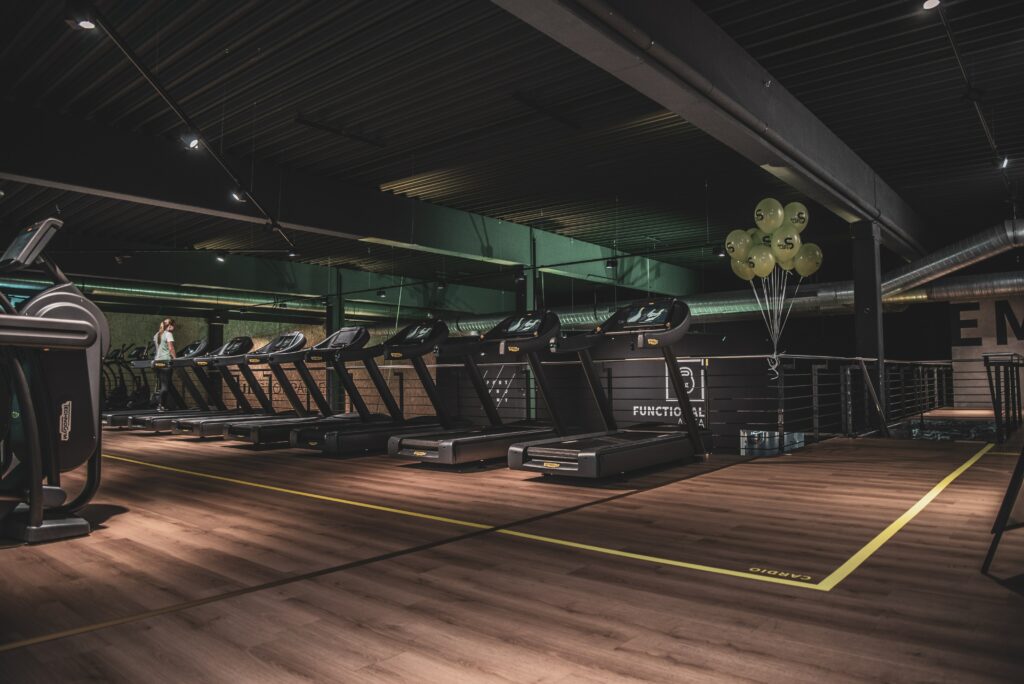 What will offices look like in 2023?
To conclude, 2023 office design will be all about creating a productive environment for staff and businesses to thrive in. These spaces will need to encourage employees on a practical and mental level and will move away from the stagnant working environment. Companies are now having to find new and attractive ways to entice their workers, with so many now used to working from home or in flexible conditions. Office design will also be centred around new and improved technologies, improving different aspects of a business in many industries.