The word mezzanine comes from the Italian mezzano "middle". This floor type is an intermediate floor located between the main floors of a building and is not typically included in the overall floor count. A mezzanine floor system is a semi-permanent floor, usually free-standing and can be both dismantled and relocated. A mezzanine floor is well thought out, designed, and positioned in order to meet a specific function or purpose.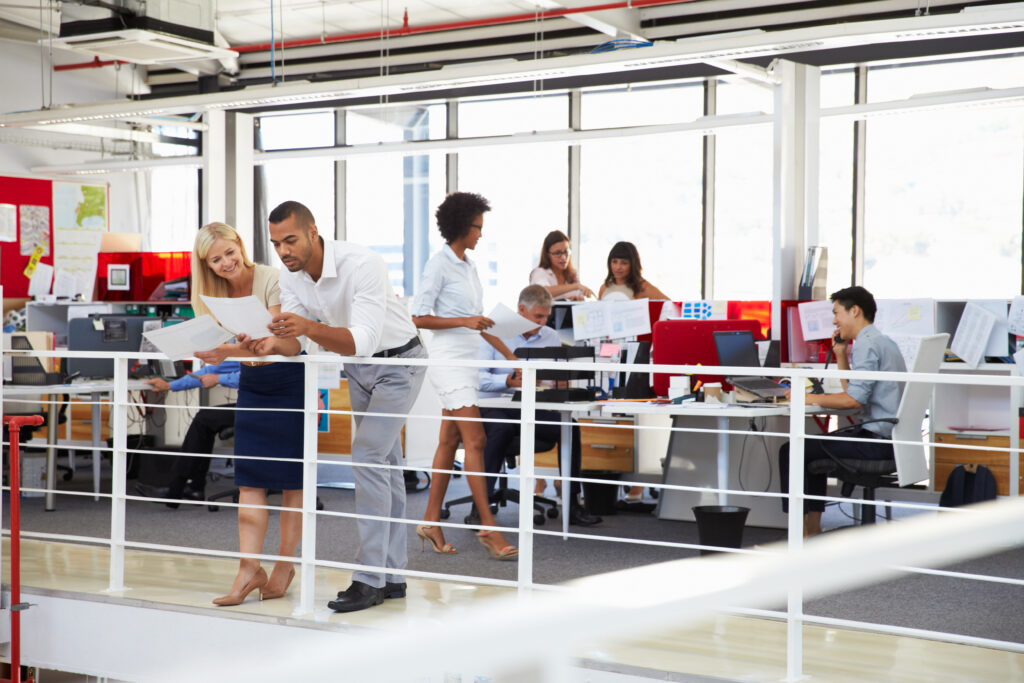 What is mezzanine flooring made from?
Commercial mezzanine floor structures are typically constructed out of steel, aluminium and fibreglass whilst the decking/flooring will vary in application. There are also different key components of mezzanine flooring which will involve different finishings and material use.
Primary beams: the main support of the mezzanine which spans across columns
Joists: span between primary beams and act as the fixing points for the decking
Columns: designed to hold up the mezzanine and support beams
Decking: made from particle board, robot-ready flooring, durbar plat or composite decking.
Why choose mezzanine flooring?
Mezzanine flooring provides a number of benefits and is also an ideal solution if you're looking for a more custom-made system. Most companies opt for mezzanine flooring to extend space and create a spacious working environment. Installing mezzanine flooring is also a cost-effective way to improve an office, factory, warehouse or industrial facility and removes the need for a new location or building extension.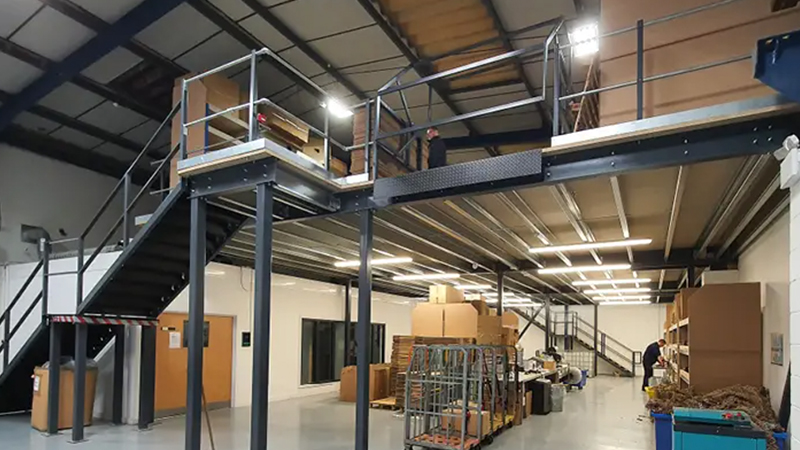 Where are mezzanine floors used?
Due to the benefits and reliability that mezzanine flooring offers, this make it a popular refurbishment solution in a number of industries including warehouse and factory work. Each floor can be tailored to a customer's needs and can be used for anything from a simple storage platform to an extended workspace. Though the primary purpose of mezzanine flooring is to provide extra storage, they are also used for manufacturing, distribution, modular office space, and the expansion of retail space.
E-commerce facilities: provides storage and distribution conditions to support stock holding, delivery times and returns.
Warehouses: add additional space for manual or automated picking and packing operations without the need for a new or extended location.
Discover more on the essentials of a warehouse fit-out here.
Industrial facilities: adds space in a production environment where extra manufacturing capacity is required. Mezzanine flooring also accommodates heavy-duty materials and loading.
Retail: extends floor space or adds stockroom capacity and is typically included in the initial design process.
Office fit-out/refurbishment: adds space for offices, meeting rooms, break-out areas and partitions.
Storage: extends storage space through the decking, racking or shelving systems to increase stock and business profits.
Automation: Technology and automated systems are a huge part of manufacturing so a mezzanine floor offers the space and adaptability for these upgrades.
Types of mezzanine floors
Since mezzanine floors are easy to install and customise, they are suitable for many facilities and structures. Choosing the correct flooring ensures the mezzanine will be ready to use and meet its purpose once complete.
Bar grating
Bar grating is a common type of mezzanine flooring, mostly favoured for its durability and reliability. This floor type also allows light and air to pass through. Typically made from aluminium, coil, carbon or stainless steel, bar grating is maintenance-free and slip-resistant.
Wood mezzanine flooring
Wood mezzanine is easy to install and is a top choice due to its aesthetic appeal, durability and longevity. This flooring material can also add value to a building whilst also offering benefits such as easy cleaning, a warm tone and low cost.
Steel diamond plate
Providing safety, durability and strength, the steel diamond plat mezzanine is compatible of withstanding constant traffic whilst also being slip and skid resistant. This floor type is ideal for large, heavy storage racks or equipment.
Concrete mezzanine
Typically designed for a permanent, immovable solution, a concrete mezzanine is the best option, especially for humid or moist environments. Concrete material is mostly used in the manufacturing industry and also provides benefits such as durability, longevity and the ability to hold heavy loads.
Particle board mezzanine flooring
This moisture and slip-resistant material offers excellent load strength and also provides advantages such as cost efficiency and density.
Laminated panel mezzanine
Due to the combination of plywood and polyethene, the laminated panel mezzanine has superior wear and durability, ideal for industrial settings and industries. This floor type is typically used in an environment which has constant traffic due to its abrasion resistance.
Resin composite mezzanine flooring
This form of the mezzanine is long-lasting and able to hold tension from pallet jacks, carts, dollies and other forms of heavy traffic.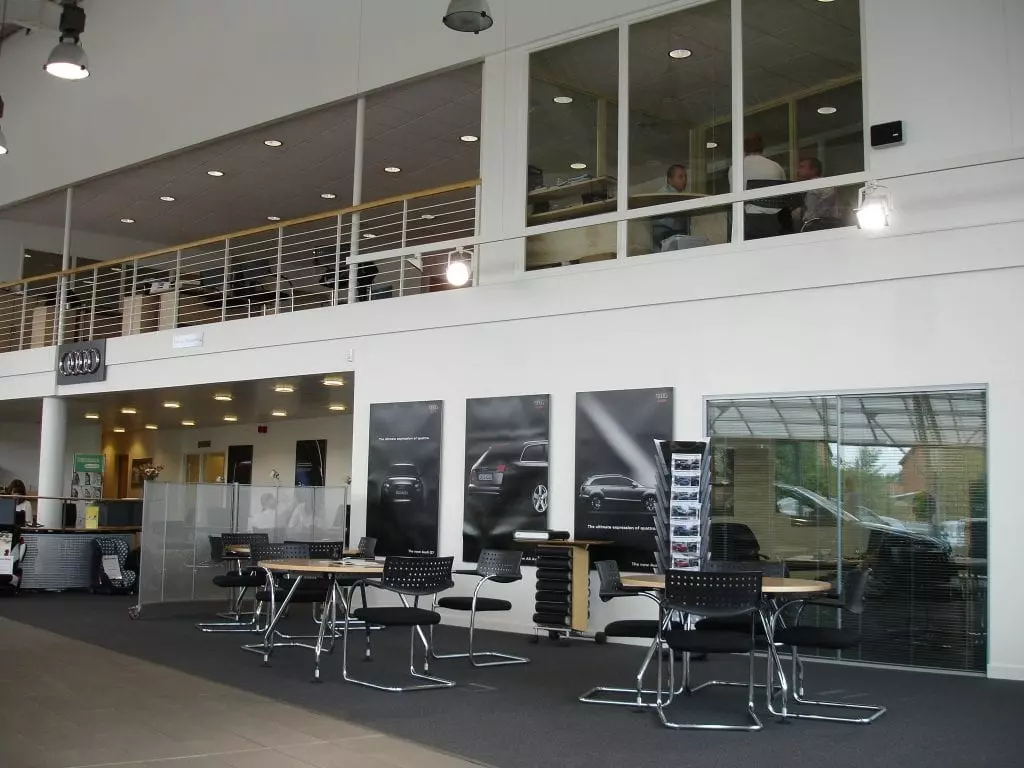 How much does a mezzanine floor cost?
The cost of a mezzanine floor can vary depending on a number of factors which is why we'd suggest getting in touch for a more accurate quote. However, you need to be aware of the things that are likely to have an impact on the cost of your mezzanine floor. The size of the mezzanine floor is one of the biggest factors that will impact the cost. The larger the mezzanine, the more it's going to cost due to the amount of material and planning that you're going to need. Similarly, your choice of materials will have an impact. The choice of material will often depend on the use case of the mezzanine but the more expensive materials will, in turn, increase the quote that you receive.
Mezzanine floors by Advanced Commercial Interiors
Planning an office fit-out or warehouse refurbishment and want a mezzanine floor but are not sure if it is a viable option in your building, or are you unsure of the legal hurdles you must overcome?
Here at aci™, we have the answers and experience to quickly assess your requirements, consider building regulation requirements and quote for a fully compliant mezzanine floor scheme – all free of charge!
Contact us today to arrange a free no-obligation consultation or call us now on 0121 339 5910, we look forward to giving your business the lift up it deserves! Our services cover areas such as Nottingham, Birmingham, Leicester and the rest of the UK.