Your guide to workplace technology
An expert guide into workplace technology and how to create a digital office space
Workplace Technology Guide by Advanced Commercial Interiors
What is workplace technology?
Benefits of modern technology in an office
What is a digital workplace?
The key features of a digital workplace
Offices through the years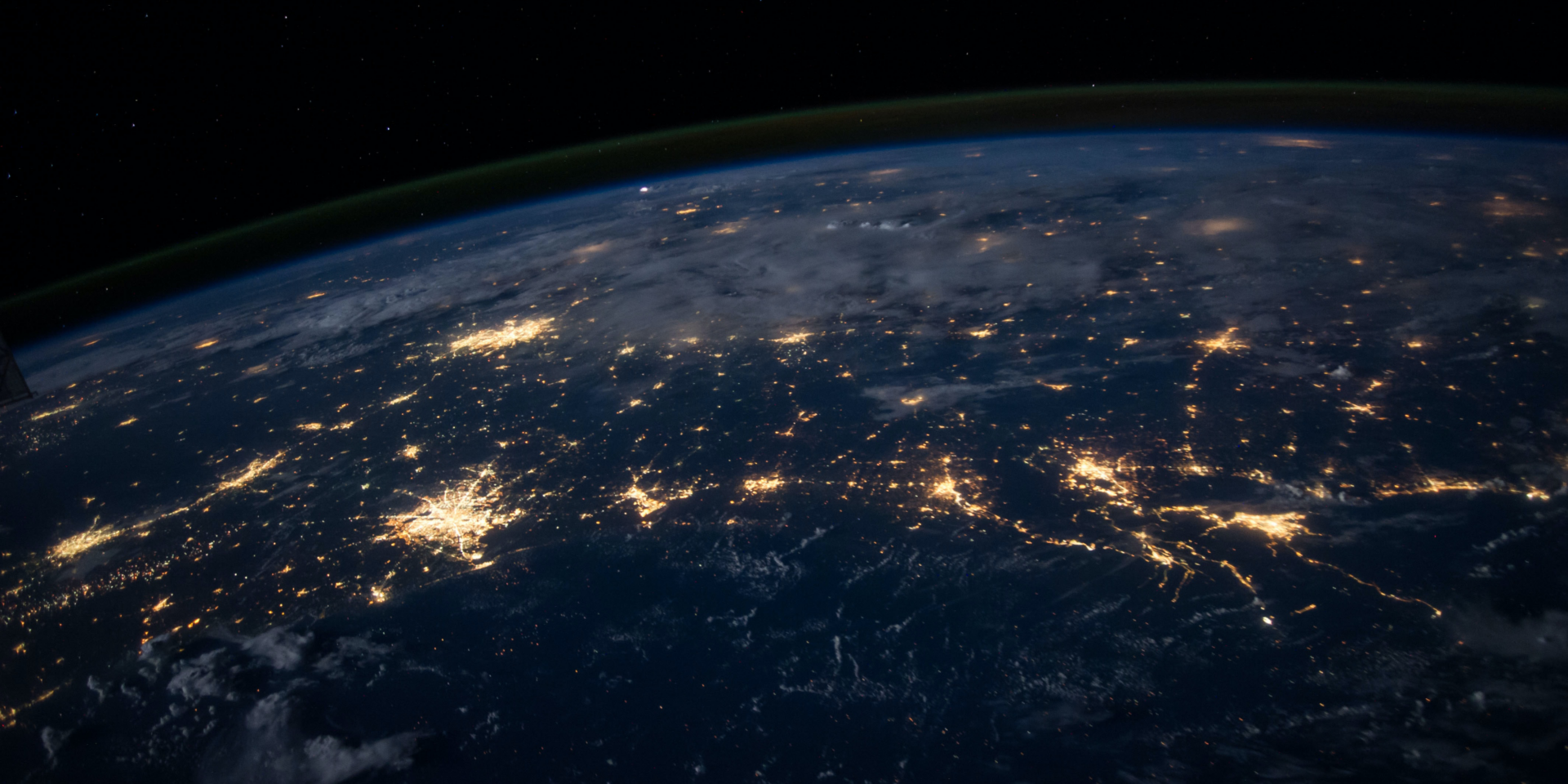 What is workplace technology?
Workplace technology is any technology found within a business's office or facility which provides the company, employers, employees, visitors and customers with efficient outcomes. These forms of technologies may be used for safety purposes or the general running of a business and have offered modern-day solutions with a number of benefits. Workplace technology can range from office computers to fingerprint entry and has come together to form a space which is now referred to as a digital workplace.
Benefits of modern technology in an office
An innovative and successful business must fuel itself with new and improved systems and create a workplace which is efficient, cost-effective and ahead in its current market. Introducing technologies into a workplace can offer a number of benefits for customers, employers and employees, setting a high standard for the business itself and improving each aspect of how the office runs. Here are just a few ways in which workplace technology can benefit an organisation.
Higher employee satisfaction
When employees are given the right resources and opportunities, this will not only enable them to complete their tasks but also do so in an efficient and engaging way. Once an employee's daily life is made easier and smoother, this will start to show through their productivity levels and happiness at work. Reducing stress levels, saving time and simplifying workload, workplace technology is a new, modern way to improve employee satisfaction whilst also improving the quality of work. This, in turn, results in loyal staff who boost profits and saves the company money in terms of turnover and recruitment costs.
Streamlining automation
Many employees spend a large portion of their day completing manual, repetitive tasks such as sending emails, entering data and updating files. By investing in automated technology, these tedious and time-consuming tasks can be limited and done through a computerised system, meaning staff can focus on the higher-return objectives which truly benefit the business. Automated processes also come with a high level of accuracy and speed. These technologies have the power to collect data, upload findings, order and organise files and puts it all into one reliable software.
Remote and hybrid working models
Companies around the world have now opted for remote or hybrid working models, offering employees a flexible work-life balance and businesses the chance to lower their overhead costs. With fewer employees in the office, there is less need for space, materials, utilities and resources. Although many workplaces have to provide staff with working-from-home equipment such as laptops, monitors and accessories, the overall cost of this is much cheaper than being in the office full-time. Having the technology to allow these routines is ideal for both the employer and worker and also comes with features such as messaging platforms, online video and digital workflows.
Improved customer service
Technology in the workplace has given businesses and customers the opportunity to communicate easier and form more personal relations. From a business point of view, newer systems and software allow a company to leverage data and deliver more specific strategies such as targeted ads, email marketing, local targeting and social media advertising. These online systems have also given customers a whole new avenue when it comes to support and service. Features such as chatbots, social handles, live chats, automated emails and tracking devices enable modern-day customers to receive the help they need quickly and efficiently. Without customers, there's no business, so maintaining these relationships and maintaining high standards in terms of customer service is key.
Security and safety
When most people think of technology in the workplace, they think of laptops, I pads and automation, but there's also the security aspect which is just as important. With new technology comes new threats, and with the accessibility that the online world brings, investing in protection and digital safety is pivotal. Cyber attacks and viruses are a huge issue in today's growing world, but luckily, there are several systems which provide extra security needed to protect personal data, finances and company information. Security also includes the physical security found in offices and workplaces. Digital offices often come with more advanced technologies such as face recognition, fingerprint ID, automated lights and doors and more efficient energy usage.
Let's talk about your perfect office — give us a call on 0121 339 5910 and let's start planning your new workspace
Everything you need to know about a digital workplace
What is a digital workplace?
A digital workplace refers to todays, virtual, modern version of a traditional office or working environment. These workplaces are filled with personalised services as well as data, collaborative tools, mobility, digital applications and a main focus on making work more efficient. This also means that certain office activities are done virtually, accommodating security needs, personal preferences, remote working and specific business objectives. A digital workplace provides employers, employees and visitors with a wide range of new opportunities and can make manual labour easier, cheaper and more accessible for all.
Key features of a digital workplace
As technology develops, so do offices and the workforce, meaning a digital office is constantly keeping up to date with new software, equipment and devices. The way a business runs and the resources it invests in will greatly depend on the industry and goals, meaning each company may benefit from different digital features. Here are just a few of the key essentials involved in building a successful digital office.
Cloud-based software
Ranging from file sharing to facility maintenance, cloud-based software is an ideal way for businesses to improve customer interaction, employee collaboration and company progress. Cloud-based software refers to any programme that is storing and managing files which is available to everyone through the cloud and is connected via the Internet, also referred to as the Internet of things ( IoT ). This process is easier to implement, is more cost-effective and is super accessible no matter the location.
Mobile apps
A digital workplace is all about accessibility and utilising technology. When employees can use mobile apps, it not only improves communication but also ensures that can view, edit and work on projects at the office, at home or even on holiday. Many companies use these apps to make work life easier and more organised by revealing data such as other employees' work schedules, available seats in a shared office space, out-of-office emails, reminders for meetings and the list goes on. Mobile phones are considered a daily necessity for most people, so being able to work from this device is crucial for a successful digital work life.
Data security
If a workplace is going to go down the digital route, they have to also invest time and money into security and business protection. The internet is full of viruses and hackers which can have a huge effect on everyone. These security issues could include leaked data, damaged equipment, financial errors, personal information getting out and password leaks. Having a reliable system in place to protect all company resources is vital when opting for a digital workplace to avoid any of these from happening.
Flexible working conditions
With most digital workplaces, also comes a sense of flexibility and freedom in regard to remote working or hybrid models. These features of a workforce are becoming more and more popular with both employers and employees and provide everyone with a modern way of working. And these routines couldn't be possible without the use of technology. Workplaces are providing remote workers with their own laptops, Ipads, mouses, headphones and even office stationery to allow workers to work wherever and however, they please. Digital workplaces also use their resources during this time in terms of virtual meetings, messaging apps and team calendars.
Collaborative workspaces
These areas within a digital workplace might include interactive whiteboards and screens, TVs, adjustable computers or handheld devices, catering for those employees who thrive in a collaborative working environment. With the main focus on productivity and communication, collaborative workplaces also allow digital businesses to really utilise their equipment in a unique way that encourages people to work differently.
If you are looking for a company to take on the commercial interior design process for your new office, give us a call today on 0121 339 5910 and we'll get started!
Offices through the years
How have offices changed and progressed over time?
From a wooden desk and chair to a private soundproof pod, workplaces and offices have developed greatly over time. Companies are now focused on providing employees and visitors with an experience rather than just a place to work. Employees now appreciate a more relaxed, commercial feel where the digital world is being utilised and make work life easier and more enjoyable.
The first office
The 18th Century was when dedicated office buildings were created, the first one being in London. These offices were used for paperwork and majority filing tasks where work was limited. Workers typically had a wooden chair and desk and were made to work strict hours.
Communal offices
As businesses grew and more people were being employed, the 19th and 20th century saw open plan offices and the standard desk structure become a popular solution for most offices. These environments were typically very strict and orderly and there wasn't much room for collaboration.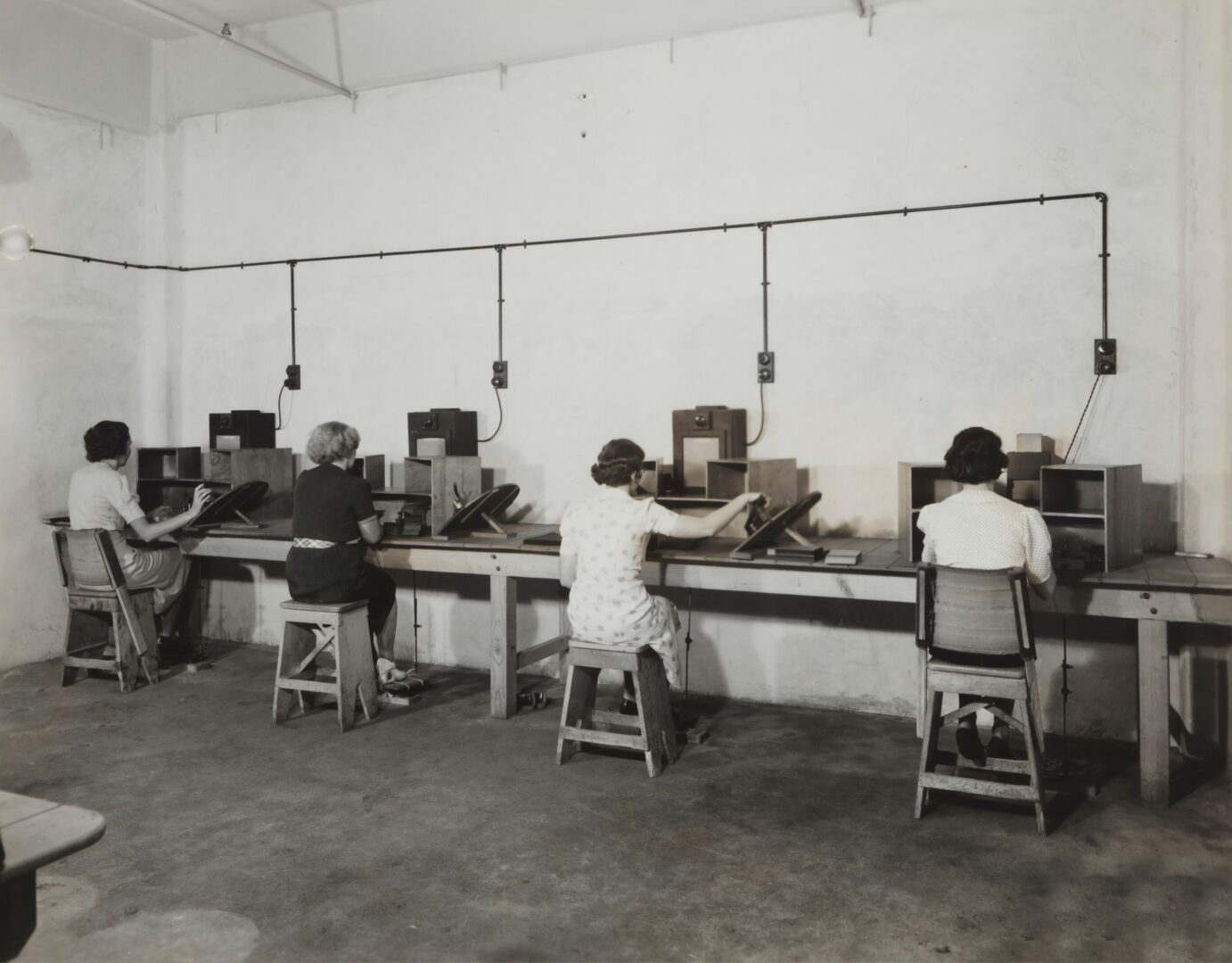 The first skyscrapers
With the invention of technology, electricity, elevators and air conditioning systems, skyscraper were then build which involved a number of offices in one place and created the idea of private spaces, meeting rooms, canteens and added facilities. However, World War Two forced many offices to close down or change focus. Many men went off to war, leaving the workplace as a female-dominated space.
Modern offices
Modern offices were introduced into suburbs and smaller towns during the 1960s to the 1980s and involved the introduction to the internet, computers and a slightly more digital approach. These offices were still simple in style and most employees were given a bulk desktop computer to complete their tasks on.
Digital offices
Now that technology is booming, the 21st century office is filled with new devices, softwares and solutions. These offices are also much more flexible in terms of collaborative work and working from home.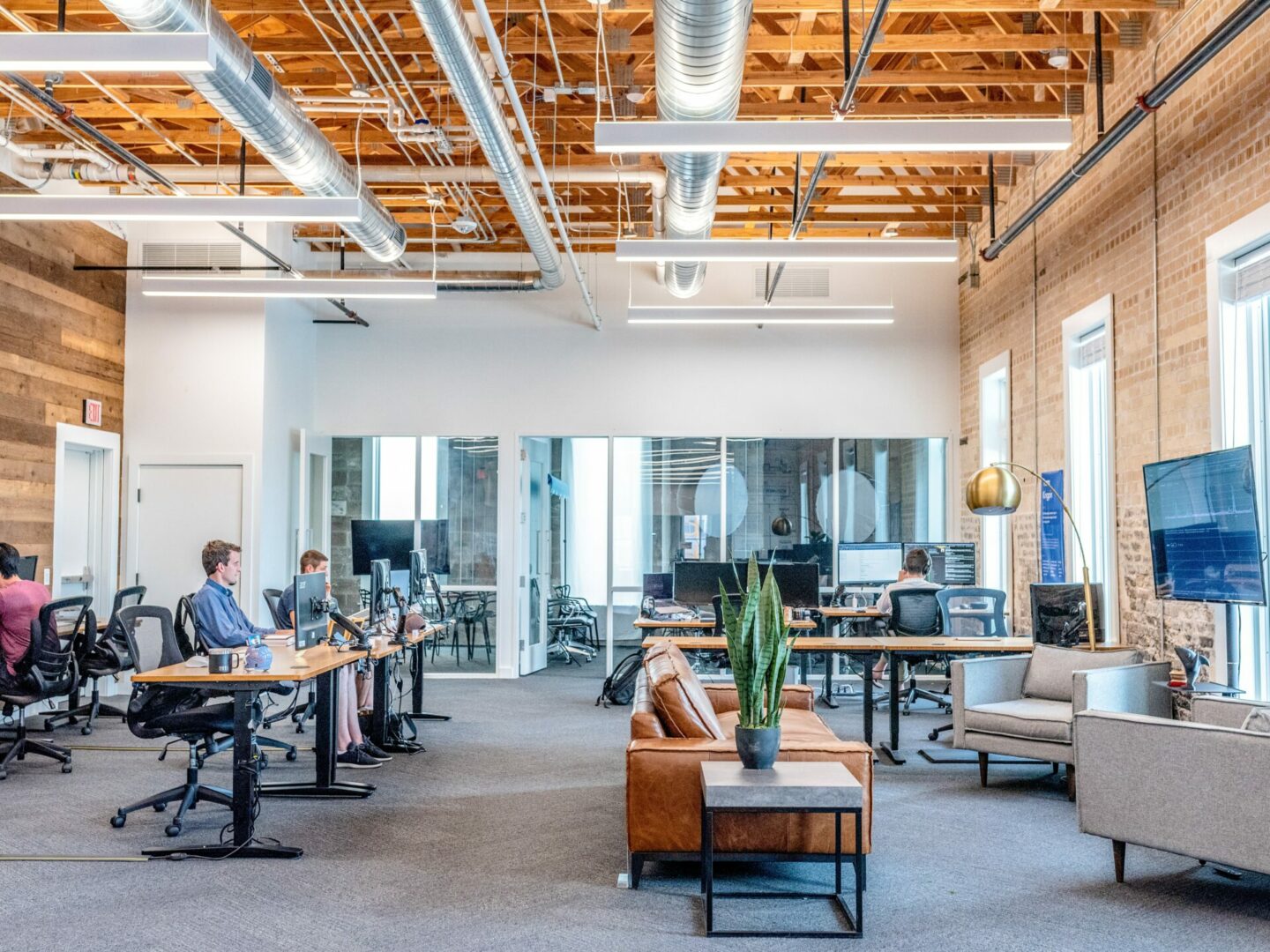 Office Refurbishment services by ACI
Office design and refurbishment serviced across Nottingham, Derby, Birmingham and the rest of the UK!
Are you looking to upgrade your business or perhaps are ready to transform your office into a digital workplace with collaborative space and plenty of open-plan design?
ACI offer a turn-key service which means that we'll transform your tired old space and create a brand new, state-of-the-art commercial space that we've designed around you and your needs, taking all your new tech into mind. You'll get the benefit of a dedicated project manager and a highly trained design team with years of experience and a flair for the finest of details.
So, whether you need us for dilapidation works until a full refurbishment or just the design phase, we're here to help. Give us a call on 0121 339 5910 for free advice and a quote!
Ready to start designing and planning your digital workspace? Get in touch and our friendly team will walk you through the process