Working together and building strong workplace relationships are critical for successful teamwork. Collaborative working gives the opportunity to share ideas and solutions with those around you and combine skills to meet a shared goal. And this is exactly what a collaborative workplace offers. These environments are designed to encourage creativity, communication, productivity and efficiency, resulting in a space where employees can thrive.
What is workplace collaboration?
Collaboration in the workplace is all about people working together to reach a common goal or complete a specific task. This could mean individual employees, department managers or outside cooperations coming together under one roof. Collaborative working utilises a range of skill sets which standard working environments may lack. These skills include creativity, innovation, decision-making, high retention and communication. In order to succeed in workplace collaboration, you need a collaborative workplace.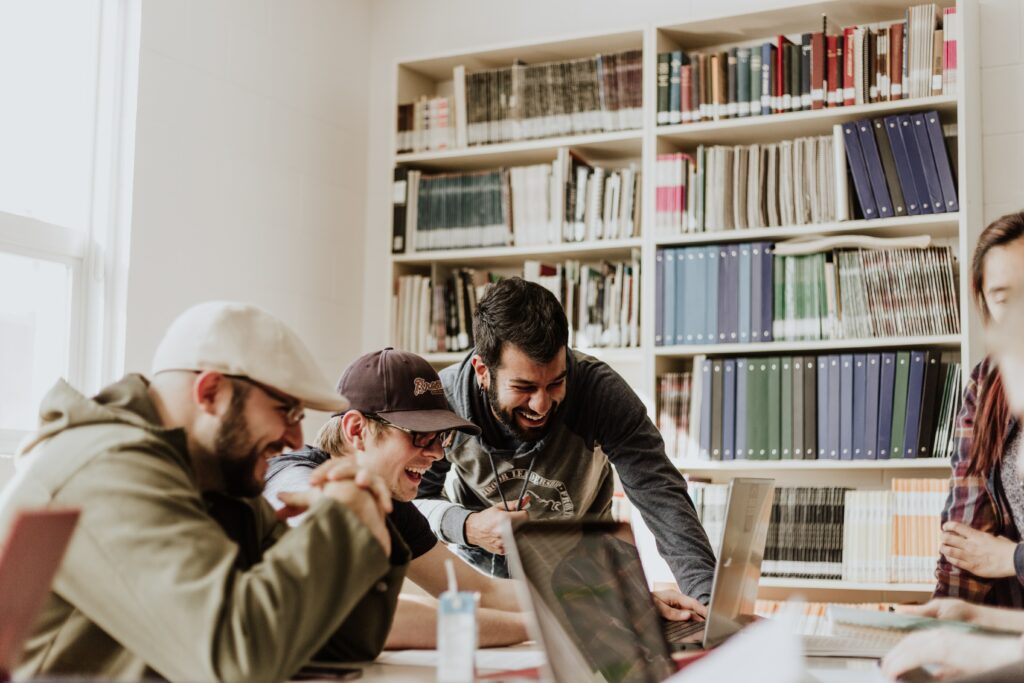 How to create a successful collaborative workspace
Offices, universities and organisations are providing environments that nurture employees and users, boosting wellness, productivity and company culture. With so many design trends out there and modern equipment available, creating this space may seem overwhelming. Here are some essential features of a collaborative workplace and things to consider when designing and planning this space.
Here are just a few key questions to consider before designing and implementing a collaborative workspace.
How much space have you got to work with?
What do you want to achieve?
What do your employees need and want?
What's your budget?
What will the space mainly be used for?
Design specification
How will this space benefit the company?
Latest trends and features
Let's take a look at some popular ideas and features used throughout collaborative workspaces.
Adjustable furniture
Investing in adjustable furniture such as standing desks and office chairs is becoming more and more popular throughout offices. No worker is built the same and we're all different shapes, sizes and heights, meaning one size certainly doesn't fit all. This adjustable equipment can only offer benefits and comfort in terms of ergonomics but is also perfect for collaborative work as you can change positionings and postures.
Shielded pods
In a busy collaborative space, many employers are opting for shielded spaces and quiet zones to offer employers more privacy and independence. Although this takes away the element of teamwork, this can still offer benefits in regard to productivity and creative thinking. This gives employees the chance to choose their ideal working environment and is able to experience the best of both. Workplaces may also opt for partitions throughout the building to separate areas and create diverse space. Collaborative office furniture like pods helps to segment the space and reduce noise pollution where possible which is really helpful for some who struggle to concentrate in a loud environment.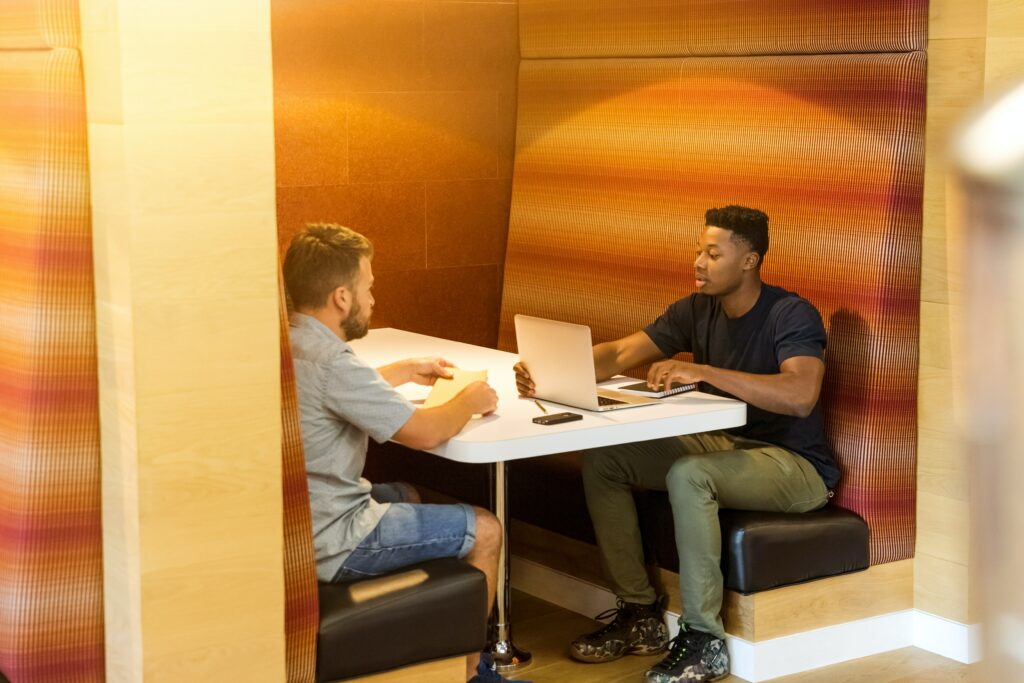 Interactive meeting rooms
Investing in equipment such as whiteboards or projectors is the ideal way to encourage collaborative working, encourage healthy competition and make it even easier to share ideas and have group discussions. Whether it's more a group meeting or a one-to-one, these interactive meeting rooms give workers the chance to get creative and show their ideas to a number of people. Things such as whiteboards are also great resources for brainstorming and project development.
Chill-out zones
Break-out or chill-out areas are typically spaces made up of comfortable seating, open-plan furniture and large sociable sections for employees and visitors to enjoy. These spaces could be used for both work and lunch breaks and usually have a relaxed, communitive vibe which enforces workplace culture. Chill-out zones are a great alternative to a standard desk area and give workers a different environment and vibe to work with.
Hot desking
Many collaborative spaces are made up of hot desks. Hot desks are used by multiple employees or even businesses at different times. Hot desking has become widely popular with companies who work on a hybrid basis as their employees do not require an office space 5 days a week. These features provide many benefits to both the employer and the employee and are a great way for everyone to socialise.
Online portals
Chances are if you have a collaborative working environment, you also have a flexible working schedule or digital workplace. This means many employees could be working remotely or on different time schedules. Due to the rise in flexibility and home working, companies are investing time and money into online platforms and portals to ensure everyone can stay in contact, no matter where they are.
Why you need a collaborative workplace
In order for employees to work to the best of their ability, they need to be content and happy in the space they are working. Employees are now, more than ever, prioritising their wellness and health when it comes to working life and truly appreciates an employer who makes improvements in these areas. And a collaborative working environment is the way to do it. These spaces do of course depend on the budget of your company, the size, the profession and the practicality, but just adding one collaborative feature could make all the difference.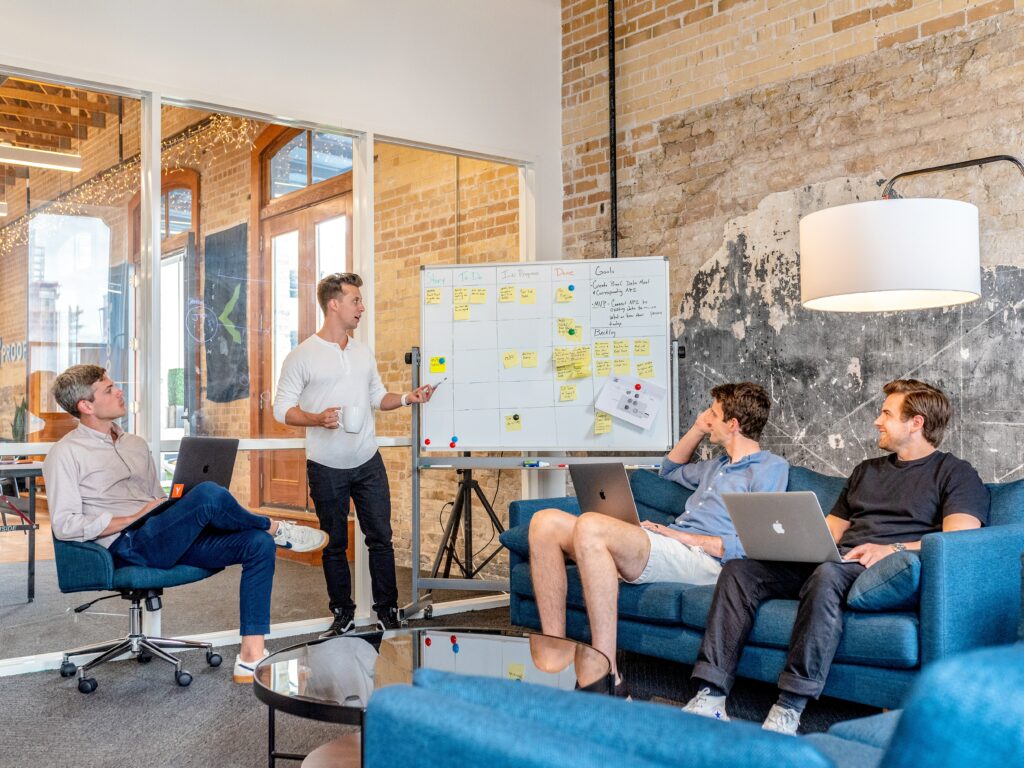 Benefits of collaborative workspaces
It's been found that when employees work collaboratively, they are five times more likely to perform better. These spaces will not only boost performance but can also boost company morale and wellness. Here are just a few benefits of collaborative workspaces.
Increased productivity
One of the primary benefits of these modern workspaces is the productivity and motivation created. Employees can often feel isolated or demotivated when working alone for several hours a day so these areas restore a team dynamic and influencer positivity. This constant communication also helps employees to stay alert and engaged throughout the day whilst also feeding off others' motivation.
Space utilisation
Designed and created in a shared environment, collaborative working consolidates the amount of physical space needed for a business but maximises workspace availability at the same time. This shared space then reduces building costs, running costs and the need for more equipment and furniture.
Improved workplace relationships
Workplace culture and employee relationships are a huge part of business and something many employees values. Enabling a collaborative environment will encourage daily communication and teamwork whilst also offering an opportunity for more personal relations to form. A strong work culture will encourage staff motivation, improve wellness and make work a genuinely more enjoyable place to be. These workstations might also be used for break-out areas or meetings.
Boosts creativity
Interactions with other colleagues and a fresh, modern environment will spark creative ideas and increase collaborative work. As employees will be working as a team, this gives the opportunity to bounce off each other and share innovative thinking. This will also inspire new visions and combine different views into one.
Build your ideal workspace with ACI
Looking to create a new, modern workspace for your employees to thrive in?
ACI is based in Nottingham, covering the whole of the UK including office fit outs in Birmingham, Derby, Leicester and Manchester. We've created a wide range of office design solutions for our clients across many different industries. Our work is completely tailored to each client, so whether you know exactly what you have in mind or if you'd like our experts to point you in the right direction you're in the right place.
Give us a call on 0115 939 7572 or drop us an email with your project enquiry and we'll be in touch.