Designing an office kitchen area
When designing any office space, it's easy to only concentrate on the most productive areas such as your office, walkways or reception. In reality, the entire space that belongs to your company has its own specific purpose, and so should be designed with functionality and overall user-friendliness in mind. In particular, office kitchens tend to get overlooked. This can result in the space feeling cramped, drab or simply not fit for purpose. Yet, as one of the busiest areas of your building, your kitchen can make or break an office space.
In today's post, we'll be sharing our top tips for office kitchen ideas and where to start when it comes to the design, planning process and space planning. Whether you're looking to improve your existing space or design a new kitchen from scratch, we're here to point you in the right direction.
Office kitchen layouts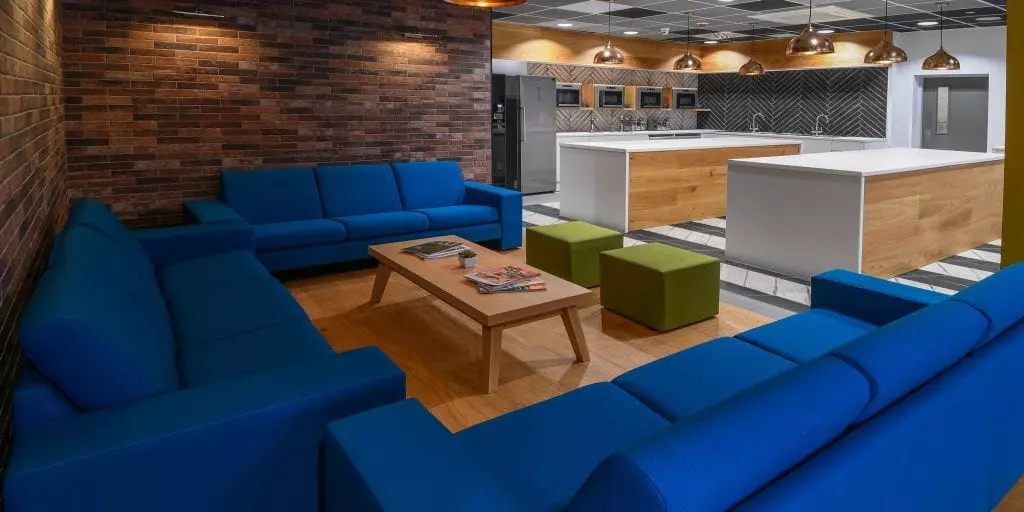 People flock to their office kitchen several times a day. From making a cup of tea to chilling out on their lunch break. The layout can either help or hinder how easy and how long it takes to do certain tasks. If someone can't get to the sink because someone else is using the microwave, for example, it can be frustrating all around, especially if people are busy and only have a small amount of time in which to take their break. Instead, you should make sure there is plenty of room for people to be able to safely manoeuvre around others to get to where they need to be. While it might seem tedious to think about, it will ensure your space works to its potential instead of being inefficient. Otherwise, the space will feel more stressful rather than inviting.
Seating areas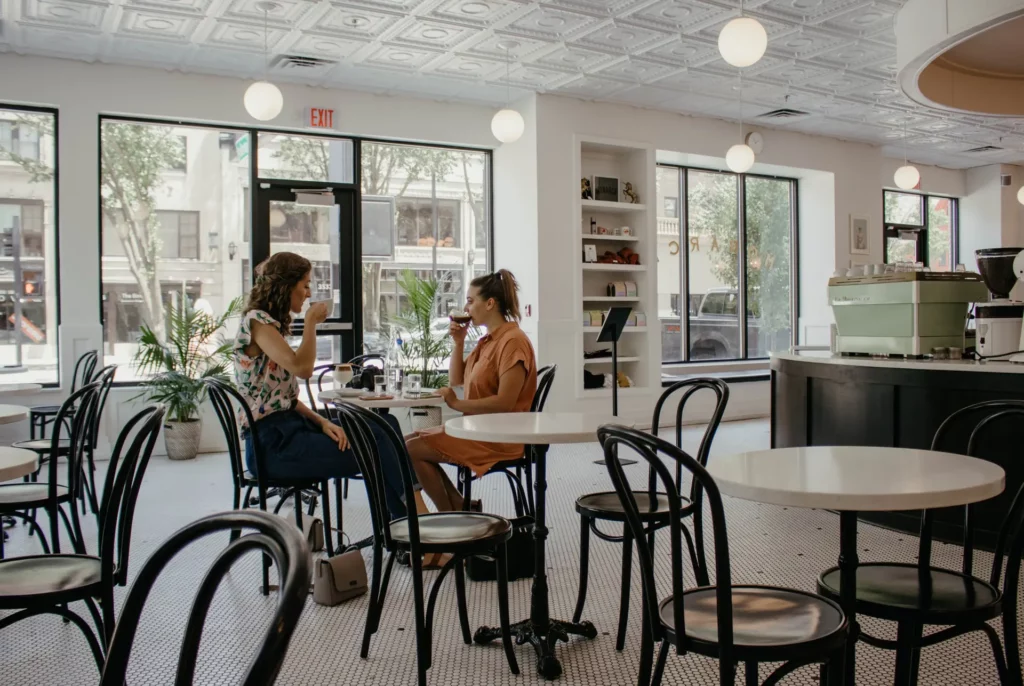 Granted, when designing a kitchen space you are going to be limited to the constraints of your building where size is concerned. But consider that if you don't have enough seating for your employees let alone any guests it's going to cause an issue.
This is especially the case if breaks happen at a set time, and not everyone can sit down to eat their lunch because there isn't enough room. The alternatives are to eat in your work area which may not comply with health and safety regulations depending on the nature of your industry. Plus, it can restrict employees from socialising with each other and most importantly, getting a proper break from their work environment. It's also a great idea to include a mix of seating, including collaborative offices, comfier sofas and break-out areas, along with sturdier seating for eating lunch. For industries that involve standing all day or a lot of walking, your employees will appreciate a touch of comfort.
Bright Pops Of Colour
So often, office spaces have neutral colour palettes to retain their professional edge. But when it comes to feeling motivated and energised, such tones can actually work against productivity. As part of our office refurbishment services, we can inject colour into various aspects of your spaces from your floors to your furniture. However, your kitchen is one of the easiest places to start when it comes to mixing up the hues of your office.
For those unfamiliar with colour theory, every colour has visual connotations attached to it. So it's worth putting in some research to find particular shades that will create an inviting atmosphere. After all, the aim of spending time in the kitchen versus the office is to feel refreshed, so the colour palette should reflect this.
Kitchen Fixtures & Fittings
In a previous post, we mentioned how over £77.5 billion is lost every year due to workplace sickness (pre-coronavirus pandemic figures). What's most staggering about this stat is that most illnesses can be attributed to the workplace itself, with office kitchens being one of the main culprits for spreading viruses alongside workstations, washrooms and general touchpoints.
While hiring a dedicated office cleaner is highly advisable, the choice of fixtures and fittings within your kitchen will determine how easy it is to keep clean in the first place.
A great example is using chairs and tables that are wipe-clean rather than upholstered. All of the floors, surfaces and appliances should also be easy to clean by users as well as cleaning staff. Any impractical materials including those which inhibit bacteria should be removed.
On the theme of practicality, your kitchen should also be hard-wearing as a high-traffic area of your building. Make a note of any currently worn fixtures and avoid using the same material if updating the space.
Natural lighting
Natural light is integral for the health and well-being of your employees, and this extends to their break areas such as your kitchen too. Therefore, every effort should be made to keep the kitchen as bright and airy as possible. An ideal option is to install large glass windows along one side of the room, which will allow natural light to flood the space. Where that is not possible such as in internal rooms, skylights or at the very least daylight mimicking bulbs should be installed.
Try to avoid dreary yellow strip lighting wherever possible, especially if natural light is already in short supply. Instead, opt for a more modern bulb colour such as 6500k daylight.
Office Redesign UK
In need of further advice for your office kitchen or office design as a whole? We're only just scratching the surface when it comes to the best ways to improve your office spaces.
Advanced Commercial Interiors has been helping businesses reimagine their office and commercial spaces since 2009. Based in Nottingham, we cover the whole of the UK including Derby, Birmingham, Leicester and Manchester.
From small re-fits to something a little more ambitious, get in touch 0115 939 7572 with your project enquiry and we'll be in touch.