Mezzanine floors are an excellent way to maximise the available space within your warehouse. As well as being more cost-effective versus moving premises, mezzanine floors allow you to add additional office, storage, production or retail areas within your business location.
As one of our specialities here at ACI, we've installed mezzanine floors for our clients across the UK throughout offices, industrial spaces and warehouses. There are many different aspects we will consider during the process, such as ensuring you have at least 4.8 meters of headroom. Plus, helping you to plan the type of design we can create for you, seen as no two mezzanine floors are created equal! However, one element that cannot be overlooked regardless of the design of your mezzanine floor is to ensure that the likelihood of a fire starting or spreading is reduced as much as possible. Here's our top advice on what to look out for, so that your business remains compliant with health and safety regulations.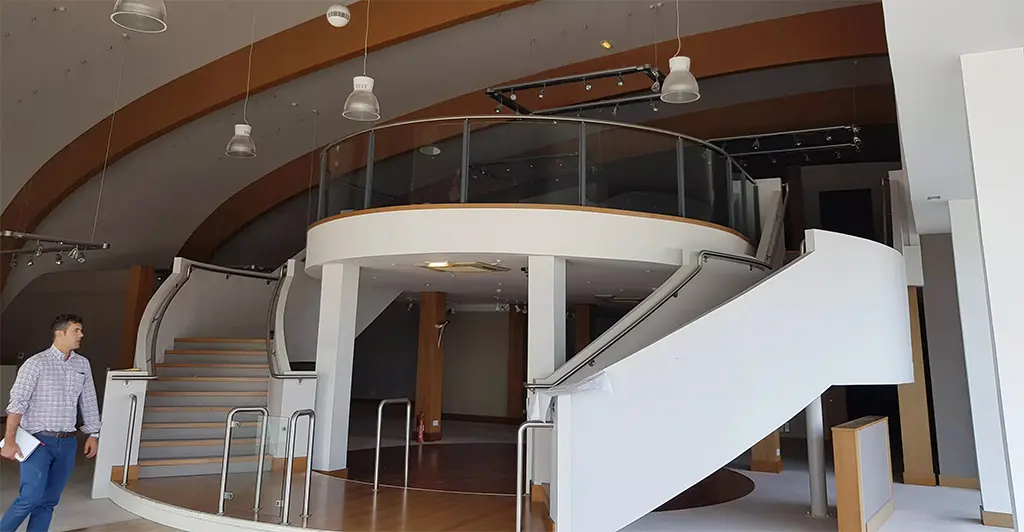 Fire Rated And Mezzanine Floors: What You Need To Know
The first aspect is to look at the type of mezzanine floor you have or are considering installing. That's because any mezzanine floors that are not frequently accessed, such as if they are used for storage do not need to be fire rated. Though, as with all areas of your building, they will need to be fitted with a smoke detection and fire alarm system.
As you may expect, mezzanine floors that are regularly occupied such as when the space is being used as an office or retail area do have to be fire rated. The same also applies if the mezzanine floor is being used for manufacturing purposes or any other similar purpose that activity sees employees use the space frequently. 
Every business should have an independent assessment carried out to determine the areas of their building that need to be fire-rated since safety is paramount and regulations are subject to change. Any changes should then be signed off by building control. Your insurers or employee unions may also stipulate certain measures are put in place too. Therefore, it's essential that building owners seek tailored advice from relevant professional bodies. 
Fire Protecting A Mezzanine Floor
The main methods of protecting a mezzanine floor against fire include:
Column casings

Suspended ceiling tiles

Bulkheads/facias

Cavity barriers
Column casings – Columns offer structural integrity to a mezzanine floor, which is why it's imperative the material (which is usually made from steel), is given additional protection should it be faced with intense heat.
There are various types of cladding materials that can be added to protect columns. An added advantage of column casings is that they also boost the aesthetic appeal of the space. The installation can happen at the time of the build or be retrofitted.
Usually, building control will require an average of between 1-2 hours of fire protection from the casings applied.
Suspended ceiling tiles – Adding a specific fire-rated tile to a ceiling is based on the idea of inhibiting the spread of the fire, especially between different floors, or where there is a potential for the ceiling structures to be compromised.
Fire-rated bulkheads – Any building that has multiple floors can benefit from a bulkhead, as they are designed to provide compartmentalisation between each floor. As well as helping to prevent the spread of fire, bulkheads also offer acoustic protection too.
Cavity barriers – 'Cavity' refers to the cavity between walls, which many buildings have. Cavity barriers look to prevent fire from spreading between walls, by expanding when coming into contact with high temperatures.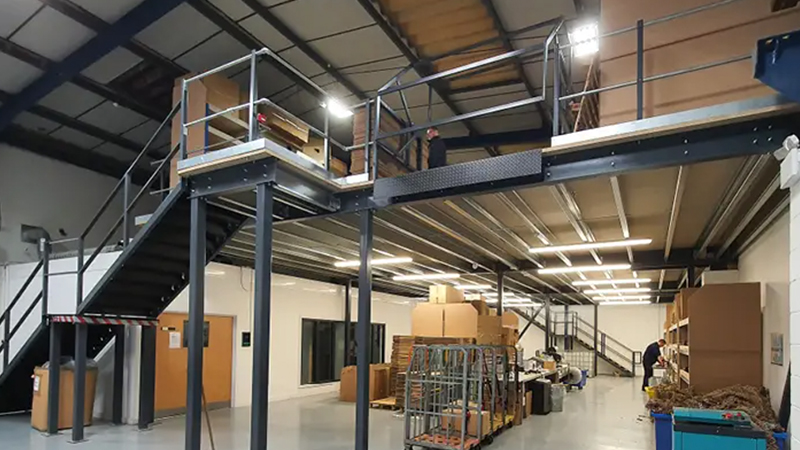 Mezzanine Floor Installation UK
We're just getting started when it comes to all things mezzanine floors, whether you're interested in building one from scratch, or want to know how to ensure the safety of your employees through fire rating your warehouse. Mezzanine floors and the issue of fire rating requires a tailored approach, so we'd be more than happy to advise you based on the usage purposes of the space and the overall construction of the building. 
ACI is based in Nottingham, and we cover the whole of the UK including Derby, Birmingham, Leicester and Manchester.
Give us a call on 0121 339 5910 or drop us an email with your project enquiry and we'll be in touch.