The strong link between the workplace and human behaviours has become unprecedented over the last few years. Without people, an office space is simply a room filled with tech and furniture. Effective business is not just made up of organisation and resources but is centred around a strong team who collaborate and enjoy what they do. When a workplace lacks that design element, this can result in unproductive, unsatisfied staff that long for an inspiring space.
Understanding these human behaviours and being in tune with what employees want can lead to successful, lasting office design which boosts morale and helps the business as a whole. Today's fit-out companies are no longer following standardised solutions, instead, they are creating workspaces which cater to modern-day human behaviours and preferences.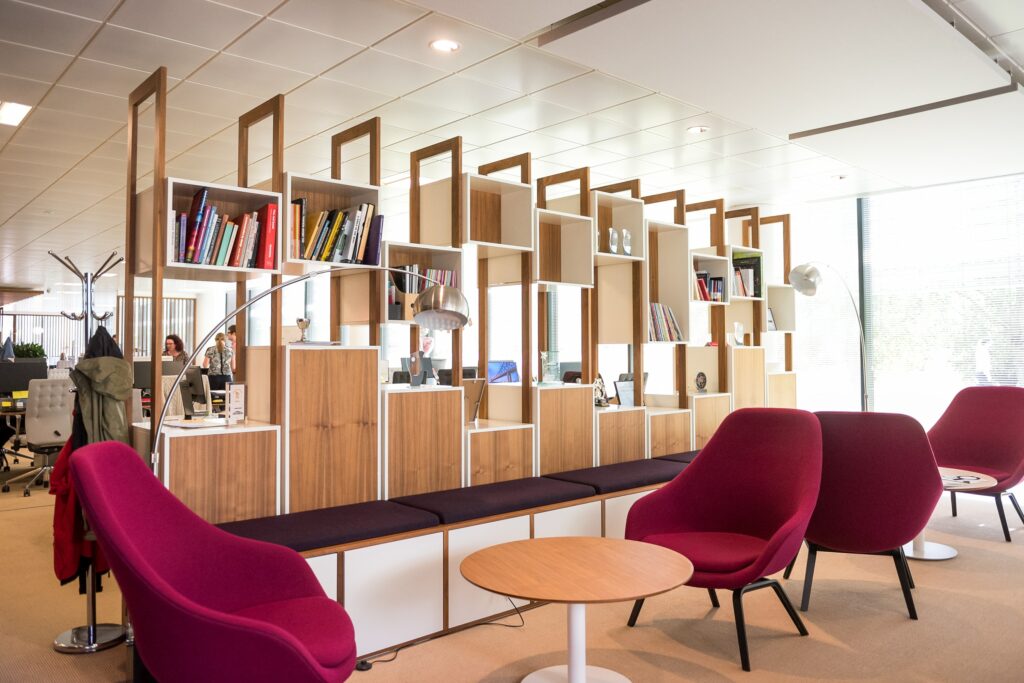 Key behaviours that impact office design
Creating a workspace that caters to the needs and behaviours of employees is one of the most important elements of any business and with this, there is a need to recognise key behaviours and how these can be applied into a workplace setting.
Collaboration vs privacy
Considering the balance between having a collaborative workspace and levels of privacy can influence office design as this could dictate whether you opt for an open plan space or segregated office rooms. Many collaborative spaces also invest in design concepts such as office pods and interactive meeting rooms whereas private offices will focus on features such as noise reduction. Although every member of staff will work differently, setting a general tone for the business will then impact the working habits and atmosphere of the team.
Flexible working arrangements
With so much flexibility around working hours and remote working, this means offices no longer require a strict desk-to-staff ratio. Whether it be hot desking or hybrid structures, office design must now cater to the flexibility of staff and create a space which reflects modern, adaptable working arrangements.
Ergonomics and comfort
The comfort of an office space or any other working environment can have huge effects on both the physical and mental well-being of employees. When designing an office, human ergonomics can impact a number of things such as furniture choice, measurements, positioning and space planning. The way in which humans move and interact with one another throughout the day will therefore dictate a large selection of the office design process, resulting in a more comfortable, enjoyable workspace that meets employee or customer demands.
Employee benefits and additional needs
Depending on how large the business is, many employees are now expecting more than just a standard office area. With new design concepts comes a new stream of employee benefits and preferences. From an on-site shop to a wellness garden, modern-day offices are now implementing new and advanced spaces in their business designs to offer employees amenities and resources to use on their lunch breaks, before or after their shifts or to work in during the day. Employee behaviour has changed and people now, more than ever, value mental stimulation and freedom at work rather than being trapped in one office room for 8 hours a day.
Company culture
All businesses, big and small, should prioritise their company culture and ensure that their staff are happy and content at work. The culture that is built within a team can also have a knock-on effect on the office design as they might opt for collaborative, open spaces where people can communicate freely and build closer connections. Adding additional areas such as break-out spots, entertainment zones, kitchen facilities and amenities can all contribute to a positive culture and sociable environment.
Humans and technology
As businesses and employees, we now have a new and modern desire to create and implement our work through technologies and advanced softwares. As teams and companies grow, the technologies continue to grow with it, with employees now using computers, tablets, AI and interactive materials to carry out their daily tasks and responsibilities. The involvement of technology in modern workplaces has meant that office design has changed too with new placements and installations found throughout.
Office design by Advanced Commercial Interiors
Our office design solutions provide businesses across the UK with modern, inspiring workspaces that capture the needs of today's employees and CEOs. Whether you own a small, local office or have just purchased your first large corporate space, we have a skilled team of designers and office installers who are ready to create your dream workspace.
Get in touch with the ACI team on 0115 939 7572 to begin your office design journey.