Office partitions are a popular and beneficial feature that many industries and companies opt for when it comes to office layout and design. They help to enhance employee privacy by segregating work areas, offer an easy way to customise workspaces and help to adjust business space to meet any future expansions. If you are considering office partitions for your workspace, you'll first need to decide on which type suits the business, office and space the best. From glass partitions to portable ones, there are multiple options to choose from.
What is an office partition?
An office partition is a partition wall, typically used to separate spaces in workspaces to create separate offices or meeting rooms. Partition walls can be made from glass, brick, metal and plastic and can also be found in homes, commercial properties or industrial sites. Depending on the type of partition you decide to install, you can help to protect your employees and equipment from the risk of fire damage and injury. Some partitions are fire rated and in some cases, you may need this kind of partitions, it may be regulation.
When designing and installing an office partition, many businesses will benefit in different ways. Whilst some might install one for privacy reasons, others might see partitions as purely aesthetic.
Creates added workspace
Reduces sound
Aesthetically pleasing
Extra privacy
Flexibility of working
Lower cost compared to building a solid wall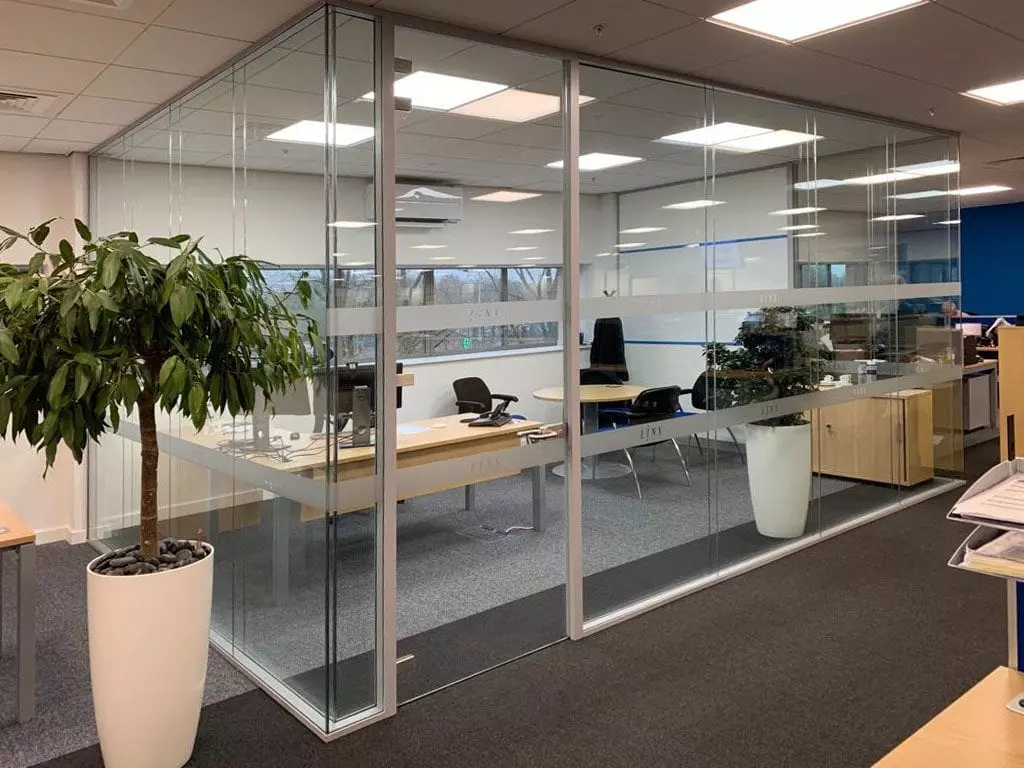 5 Types of Office partitions
Glass partitions
Glass partitions are a popular choice due to their simplistic design and modern exterior. This type of partition is great for reducing noise and letting light into any space, creating a spacious, roomy feel. Glass partitions are available with solid aluminium frames, or with frameless full-height glazing for an elegant, soft finish. The main benefit of using glass partitions is their aesthetic, however, they must be installed correctly and accurately to avoid damage or potential hazards.
Floor-To-Ceiling Partitions
Floor-to-ceiling partitions, also known as full-height partitions, are great for breaking up workspaces and large office areas. They don't restrict visibility in the office but still have the ability to offer employees a certain extent of privacy. These partitions can also easily be reconfigured and moved to offer employees and employers maximum flexibility and freedom in terms of where and how they work. This type of partition is typically made from metal.
Cubicles
The most common and fundamental partitions, cubicles are also referred to as "half-height" partitions and offer a moderate level of privacy to employees. Cubicles are easy to move from one place to another, featuring four walls and an opening for people to enter and exit so the space can be easily accessed throughout the day. The fourth wall of a cubicle is half the height of the other three walls and there is usually a workspace present.
Portable partitions
Portable office partitions usually have rollers attached at the bottom so that they can be easily transported from one place to the other. Businesses looking for flexible, temporary partition solutions opt for portable office partitions to allow them to use the space when and if they need and even remove it when the time comes. Even though they offer minimal privacy, some portable partitions come with an enhanced noise-reduction feature for employees to benefit from.
Accordion walls
Accordion walls are very similar to portable partitions but provide full enclosure in the same way as floor-to-ceiling partitions. They are easy to move and install and can also be folded or closed in order to arrange or style them differently. You could consider a folding moving partition too.
Choosing the right partition for your workspace
When designing or planning an office space, choosing equipment and features which suit you and your business needs is key. With so many companies now opting for collaborative workspaces, office partitions are a popular demand. Partitions offer space benefits in regard to usage and aesthetics and are ideal for implementing break-out areas, meeting rooms, quiet zones or boardrooms. When deciding on which partition you need, looking at all the benefits will ensure you're getting exactly what you and your business need.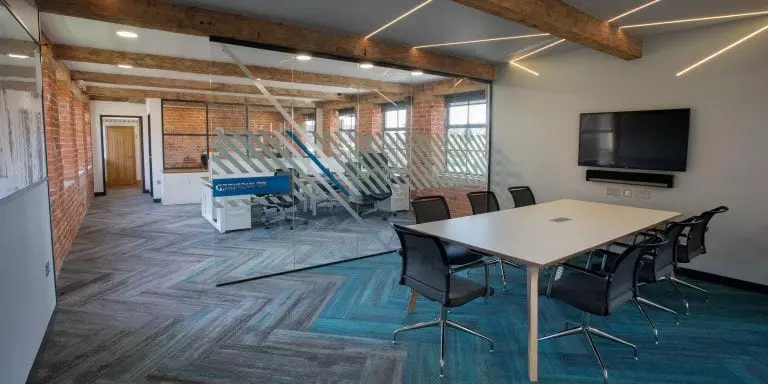 Office partitions by ACI
We're able to provide a huge range of partitioning systems for a variety of applications, from modern glazed partitions to create open-plan offices, to solid partition walls to add completely separate rooms. We also install a huge amount of industrial partitioning for factories and warehouses.