There are countless studies and science-backed theories that prove a happy environment equals a productive one, ranging from everything from office furniture to the hours people work. It's no secret that where you work impacts how you work, something that employers are increasingly prioritising. And, besides, everybody loves office design hacks!
Today it's all about breaking the mould and providing staff with an office where they truly enjoy spending time. Extended working hours, agile working and technology are all impacting office layouts. Staff need to be productive whether that's during a 9 am board meeting or when completing a last-minute report after hours. It's also important for employers to understand that everyone is different and while some people work best at a traditional desk, others are far more productive on a bean bag with a laptop.
Yes, not every office can accommodate everyone's working preferences but by making a few small changes, you'll be able to turn your office into a place where staff love to be. This, in turn, will boost their ability to focus and boost productivity levels. To help inspire you, here's 6 office design hacks which will help you to boost productivity.
1. Create A Space To Relax In
Ok, this may seem counterintuitive when you're aiming for productivity, however, there's evidence to suggest that taking a break from work actually helps concentration. Working solidly for hours on end can be draining and counterproductive in the long run. However, being able to take breaks refreshes the brain and re-energises people.
In a survey, 500 members of the public were asked what they thought boosted productivity levels in the office. 1 in 5 said that having a place to relax was a key factor.
So, what can you do? Well, it really depends on how far you want to go with this. You can incorporate fully functional sleep pods like Google or opt for a simple break-out space. This can be done on a relatively low budget, with minimal disruption and the space can be multi-functional. So, when staff aren't relaxing during breaks and at lunch, groups can hold informal meetings or work away from the desk.
Another great way to help your staff relax within their office space is to incorporate flowers and plants within the space. If this isn't something you want to do yourself, there are plenty of companies out there that can look at this for you, with Todich Floral Design being an example.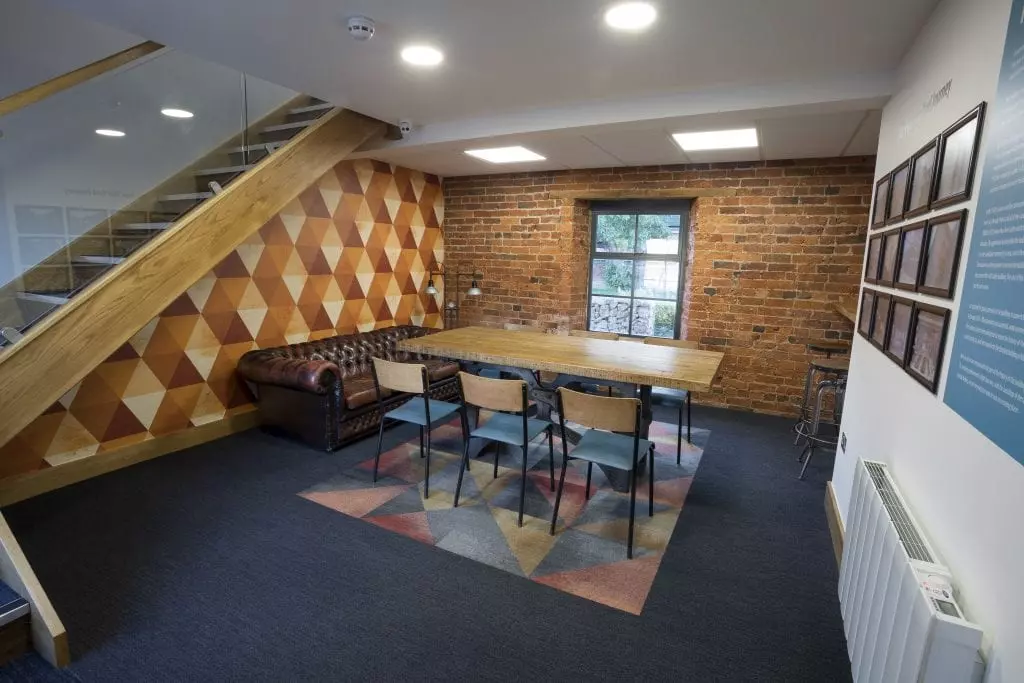 2. Declutter
Are you guilty of hoarding? Do you keep heaps of old files which are now computerised? Books everywhere which nobody reads? Office stationery scattered across desks? If you answered yes to at least one of the above then it's probably time for a clear out. Also, this is most likely the easiest tip to put into practice in our list of office design hacks.
When you're surrounded by clutter it can really hamper productivity. That's not to say you should go completely minimalist, just reduce the hoarding. Think about whether you really need to cling onto those files which are now backed up. Consider new ways that you can store things in a much slicker manner. Why not provide staff with a locker or simple set of drawers to securely file away their belongings? This will minimise clutter and maximise productivity.
If you have a spare room in your office and need to hold a lot of archive files, then a mobile storage solution my be the answer. Our sister company, Unirack, are expert in designing and installing systems like these and have worked for some of the world's most well-known brands to create storage systems which fit the needs of their business.
3. Diversify The Office With More Spaces
Now agile working is a common practice in the UK, people are becoming increasingly accustomed to working in different environments. Whether that's at a desk, at home, in a coffee shop or on a train – we're no longer permanently bound to a single workstation like we once were.
To help enhance productivity levels, it's good to mix up the office a little and incorporate different spaces for people to work. Instead of just having banks of designated desks, mix things up with hot desks, quiet pods, kitchen areas and break-out spaces. This will enable to staff to choose where they work based on the task at hand. It also breaks the day down by spending time in different areas rather than one set place. Plus, this encourages movement which is key to staff health and wellbeing.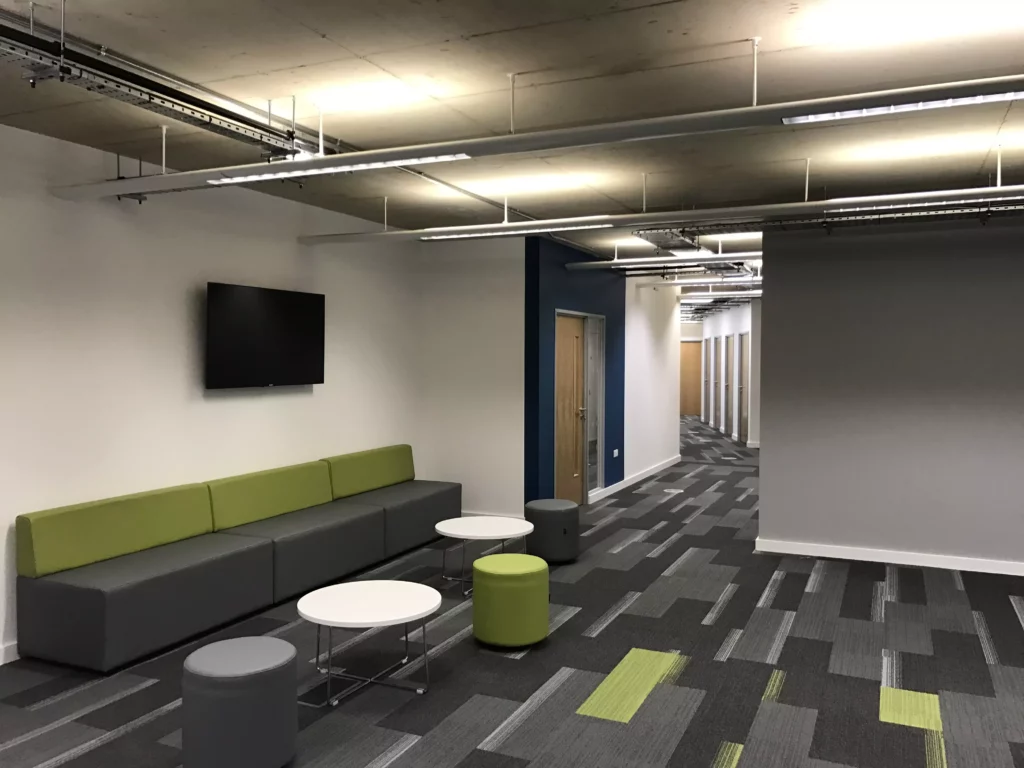 4. Prioritise Comfort
An uncomfortable workspace can be extremely detrimental to productivity. Aching backs and strained eyes are serious and can lead to a whole host of health problems. This is becoming a key priority for many employers in an effort to improve employee well-being and combat absenteeism.
Desk ergonomics are key to comfort at work and helping to reduce the health risks associated with computer-based jobs. To help, here's a useful infographic which demonstrates how to achieve an ergonomically sound set-up. If you're an employer, it is worth organising a training session for staff or hold one-to-ones to ensure they understand the importance of desk setup.
Fun fact! Incorporating plants into the workplace can also have a fantastic effect on productivity! Want to know more about introducing plants into the workplace? Give our blog post on Biophilia a read.
5. Incorporate Art
Perhaps one of the more unique office design hacks you could use in your workplace, but it is definitely an effective one! According to psychologist, Dr Craig Knight of Exeter University, offices that are "enriched with art" make employees feel "happier, less stressed and able to work more productively." In an interview with the Guardian, he said "there is a real tendency to opt for sanitised, lean workspaces, designed to encourage staff to just get on with their work and avoid distraction. But there isn't a branch of science in the world which believes this approach boosts productivity or makes for happier workers." By incorporating art, his line of thought suggests that productivity levels will be boosted.

Deutsche Bank already puts this practice into motion with over 60,000 works of art across its global offices. The finance giant even has an interactive app which employers can use to learn about each piece in addition to regular talks by artists.
Global Head of Art, Friedhelm Hütte, at Deutsche Bank explained, "Art offers a window into the social, political and economic aesthetics around the world which makes it a good, inspirational fit for our business because we live on developing new ideas for clients and reacting to what is happening in the world."
By incorporating art into your office, you'll break up the space, add colour and also provide staff with inspiration. There are plenty of places to source art nowadays, whether you're looking for originals or simple prints to frame. Share your plans with your team and see if they have any ideas – you never know, an art enthusiast could be within your realms, plus it's always good to get staff input.
Why Incorporate These Office Design Hacks?
By taking a few simple steps and rethinking your overall office design you can boost staff satisfaction and positively impact productivity levels. Why not involve the whole team to work out which areas you need to focus on? A questionnaire can be a great way to understand how employees prefer to work as well as what changes (within reason) they think will boost their productivity levels.
If you'd like some more advice on our office design hacks, as well as information on how to incorporate them into your office to boost productivity levels, we'd be happy to help. Give us a call on 0121 339 5910, or drop [email protected] an email. We cover Nottingham, Derby, Leicester and surrounding areas!