We spend a lot of our time at work, that is a fact. And the sad reality is that a lot of office spaces are still incredibly dull places to be. This can have a detrimental effect on the happiness of your staff, and sometimes their wellbeing and health can be affected as well! Office refurbishments are a great way to solve this problem. But what happens if your business just does not have the budget for a refurbishment? Well, there are some great things you can do to improve the look and feel of your workspace without spending a lot of money.
On top of all this, improving the look of your office space can also add value to the space! This is incredibly useful if you own the space and are looking to rent it out to other companies, or sell the place altogether.
With this in mind, we have reached out to some world-leading experts in their field for their opinions on what a workplace needs to have. Here are their thoughts:
The one thing all workplaces need to have is the ability to change. The workplace is constantly changing and the requirements for staff change along with it. With this in mind, the use of loose furniture over joinery is always an easier option and sometimes more economical.
The requirements for different styles of furniture/workplaces come from within the business, for example, if your business is client facing with either clients coming to the office or even if you wish to attract talent the Reception must speak volumes about the way the business is positioned. A good example would be if you want an open friendly environment try a standing desk for the reception, with the receptionist already standing, they appear more approachable with no clear physical barrier between the receptionist and the guest. Hotels have used it for years and there is a reason why.
Having a coffee machine/station or water dispenser is always a good option. This will allow the guest to feel more comfortable with waiting in reception and it also shows the company's a more hospitable environment.
The workplace itself always works better with a variety of different environments for staff to work. This allows staff to work either collaboratively or allow them to complete focus work if required. It's always important that if you use different styles of furniture where they are positioned or placed in relation to desks. For example having a couch may seem like a good idea but having it positioned near a group of desks will make the couch less attractive as staff will not want to use it or collaborate at it thinking they would disturb those sitting near it. So location of furniture is almost as important as positioning of the furniture.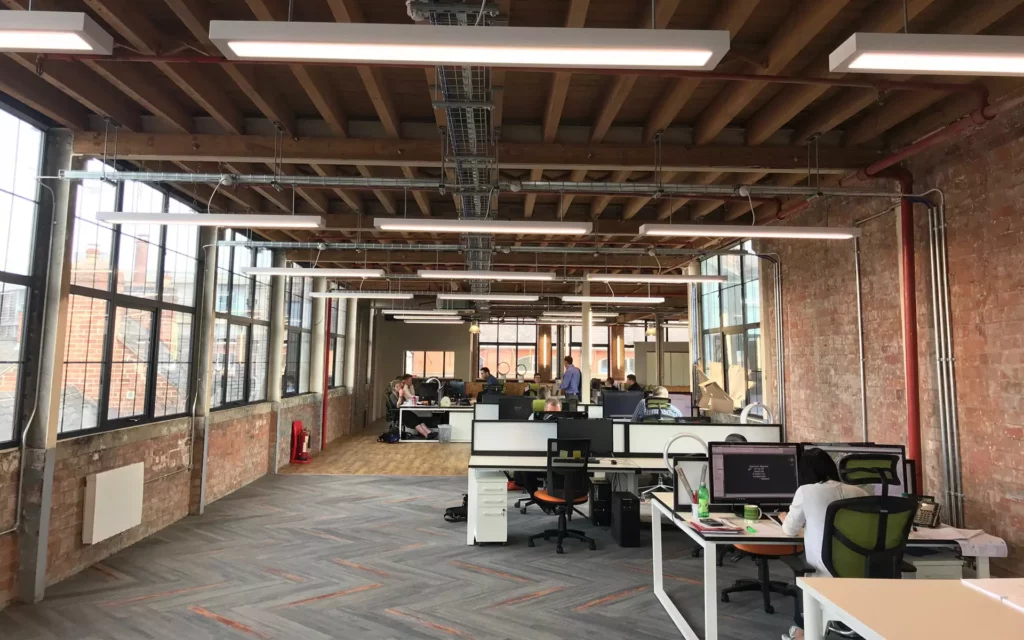 One thing that is often overlooked in office space is a smoothie corner (or simply the equipment to make smoothies) in the kitchen with an inspirational healthy recipe board to encourage employees to eat more fruit and veg.
With only 7% of people eating the recommended 5 serves of veg and 2 serves of fruit per day, improving the health of your staff should be one of the first things on your priorities list! Given the fact that employees spend so much time at work, allowing them to make smoothies creates huge potential for employees to help improve fruit and veg intake, which will increase energy, mental focus, productivity and well-being.
After all, healthy employees are up to 3 times more productive than unhealthy ones and take a lot less sick days!
Lifestyle features are a huge trend right now – end of trip facilities were one of the top requested features by tenants this year while many office buildings and coworking hubs are differentiating themselves with gyms, yoga studios, onsite fitness classes and free refreshments.
Cafe-style breakout areas – people want to really be able to chill out on their breaks, not awkwardly eat lunch in a tiny office kitchen! Coworking offices are bringing in onsite baristas and full cafe setups, but you can tap into the trend by incorporating bar seating, sofas, beanbags and cafe-style tables.
In today's age where the line between work and play is blurred, there needs to be a sociable and collaborative vibe to the office. Fun features such as games tables, pet-friendly policies and outdoor spaces can really bring the team together. But there also needs to be quiet spaces – invest in a phone booth to give people a private place to make calls or work quietly.
Of course a great coffee machine is vital! But don't stop your team choosing more healthy options – free fruit, cereal bars and tea should be on offer too.
A good office is made great by people! Bring everyone together with a drink at the end of the week, have a show & tell afternoon or host a fun event.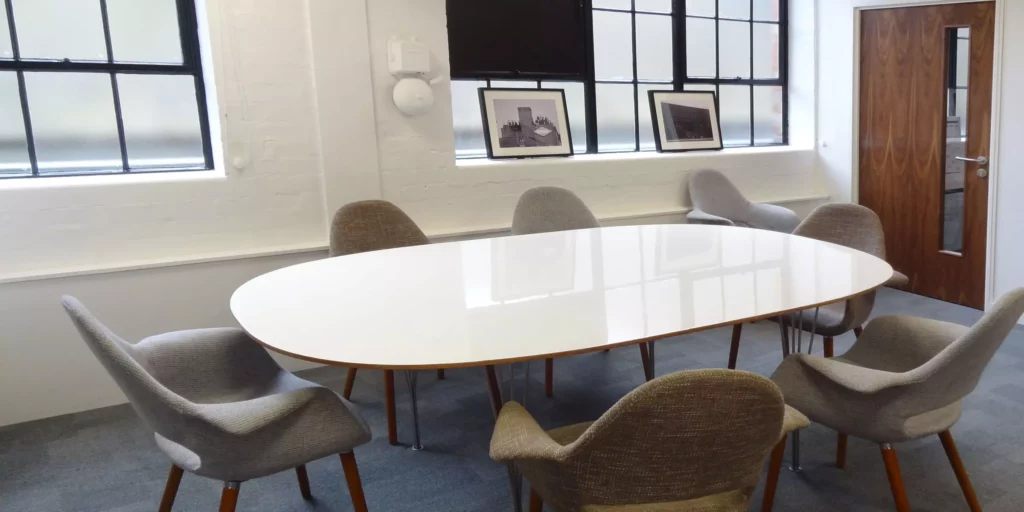 Businesses need to think about their interiors like they would their homes. People don't want to work in a beige cell that is as warm and inviting as a bed of nails. Bring in pieces that add warmth. This isn't hard or expensive to do.
In a meeting space, place a warm wooden sofa table against one wall. Add a lamp and some accessories to give the space a warmer feel, you can add a wooden hutch and display company event photos that show the fun side of your corporate culture, and awards your company received.
If you're just starting your business frame your core values or mission statement in a nice 5×6 frame (not too large) and set it on the hutch or the sofa table. The goal is to warm up your space.
The number one thing a company can to accomplish this is to add warmer task lighting. There is nothing worse that 100% harsh overhead lighting.
And, please, get rid of the fake flowers and plants! They collect dust and can also look very tacky. Create a live, thriving culture with live plants. Get succulents to give your space some life. They are low maintenance, won't provoke allergy attacks, and the colours are wonderful. If you wish, you can create a small container garden with artfully arranged rocks and succulents for you lobby, front desk, conference rooms, and for sure the owners office. The energy the small containers provide is extraordinary.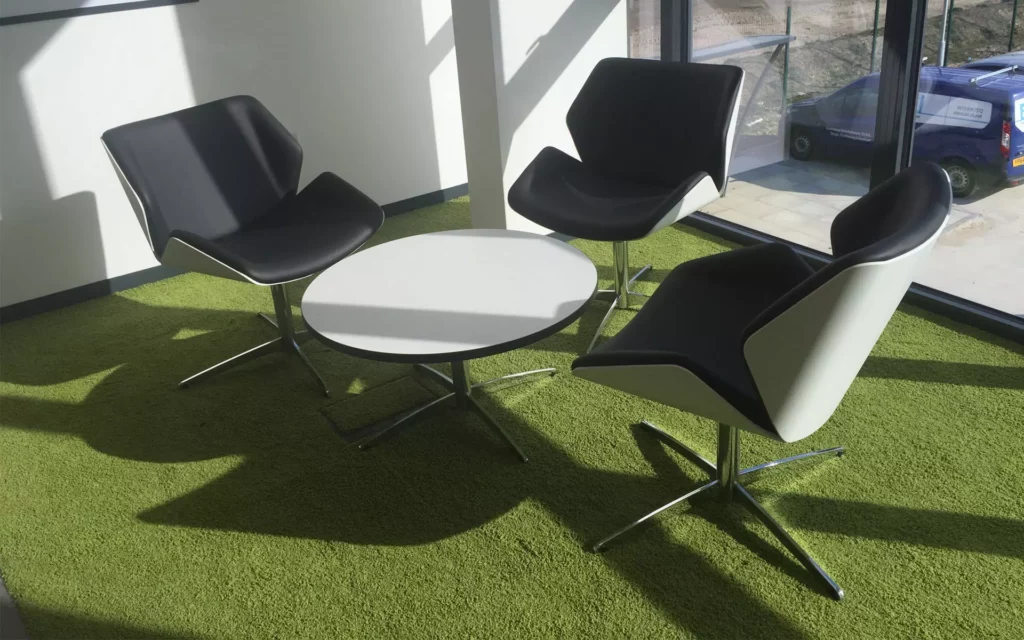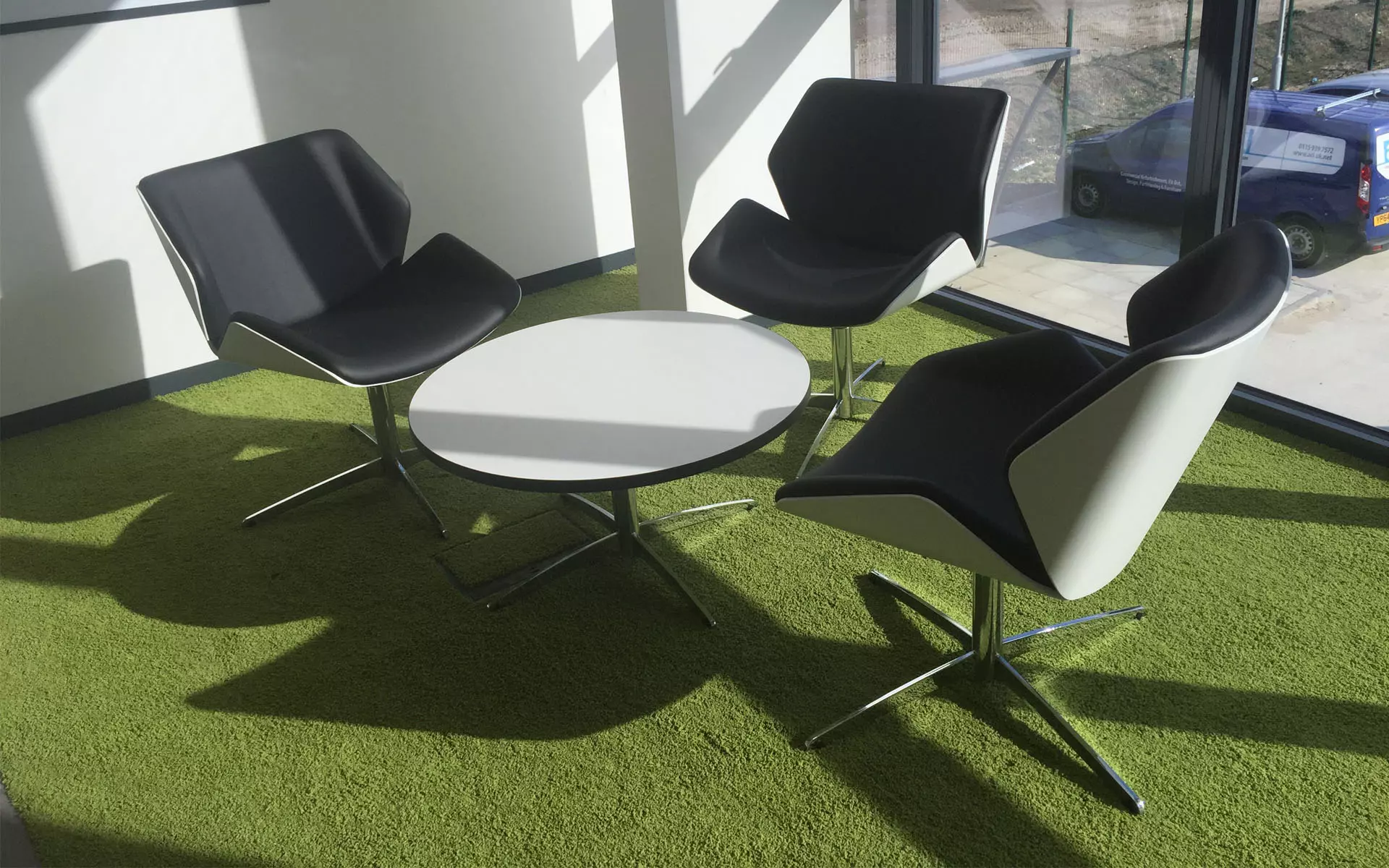 I believe every office should offer a safe space where employees can isolate themselves for a while. Nowadays, most office workers work in open spaces that offer zero privacy. Your colleagues' prying eyes and the constant traffic behind your back can literally drive you insane!
That's why a safe room where you can isolate yourself to give a phone call, relax or work in silence is a great idea. Of course, not every business has the luxury to have an extra room for their employees. In that case, I'd create a safe space with a sofa and folding moving walls to separate this safe space from the rest of the open space.
If it's possible within the space you choose one space that is dedicated only to working. This way your mind will associate the spot with studying, doing work or just focusing in general. That way it'll be easier for you to slip into the focused mindset whenever you sit down there.
Use natural lighting whenever possible. Natural sunlight has lots of health benefits like vitamin D and helping you sleep, and it also increases productivity. If you can't use natural lighting, for example, if you are studying at night make sure your space is well lit with a lamp. That way you don't have to strain your eyes.
Use vertical storage whenever possible. This way everything is easy to access. it's a lot harder to pull things out of the bottom of a stack versus just taking things out in your vertical storage method. The goal is to reduce the difficulty for you to get what you need. Because we are all lazy and want to take the path of least resistance. So you want to create as little resistance as possible between you and the supplies you need. Going along with that you should also have all your necessities within arm's reach.
Liked this post? Why not check out some of these great posts: